Blues is one of the most interesting and favorite genres of music for me. And if you are here, then you think so too. So, I will tell you about the five best blues acoustic guitars that exist on the market today. After all, when you refer to the blues, it's immediately clear that we're talking about deep, voluminous bass and clean upper vibrations. So, guitars with those features are the most in demand.
Our pick
Epiphone Hummingbird Studio
Best acoustic blues guitar
The Hummingbird Studio Acoustic/Electric updates the 60s classic with a solid spruce top, mahogany neck and body, Grover® Rotomatic® 18:1 ratio tuners, traditional binding, historic Hummingbird™ pickguard, and Fishman® Sonitone™ electronics.
Read the full review.
Name
Scale, in/cm
Frets
Fretboard radius, in/cm
Type
Body material
Neck material
Review
Epiphone Hummingbird Studio

best overall

24.72/62.8
20
12/30.4
acoustic/electric
mahogany
mahogany
Review
Yamaha FG800

beginners blues guitar

25.59/65
20
15.74/40
acoustic
nato/okoume wood
nato wood
Review
Yamaha AC3M

under $1000

25.59/65
20
15.74/40
acoustic
mahogany
mahogany
Review
In fact, there is no such thing as guitars for blues. Rather they got their title because famous blues guitarists used to play on specific models. So I will tell you about the design, type, and sound features of each such model, which will help you be guided in your choice. Let's get started!
Best acoustic blues guitar reviews
I think I'll start with the Epiphone Hummingbird Studio because, in my opinion, it is the best acoustic blues guitar. Why? First of all, the shape of the Dreadnought is a pure classic, which has been used by the most famous artists of all time. Secondly, this model has already earned immense popularity because you can recognize the Epiphone Hummingbird Pro with its famous Pickguard with a hummingbird image.
The instrument is very well made, especially considering it is an acoustic/electric blues guitar for under $500. The top is solid spruce, and the back and sides are mahogany.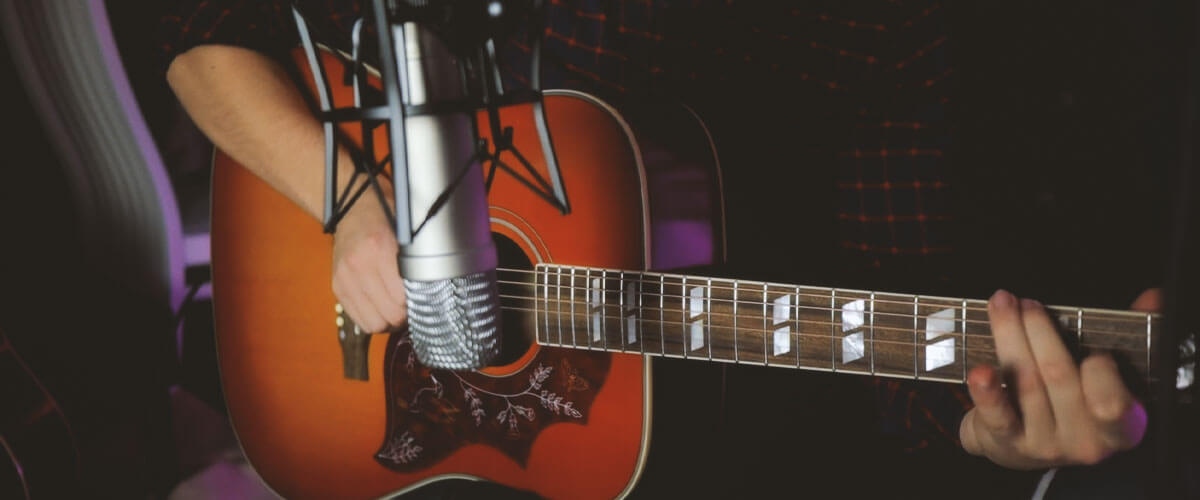 The glued-in elegant Slim Taper D fingerboard with Pau Ferro parallelogram fretboard inlays is also made of mahogany and has 20 frets. It is very comfortable in the hand, and I think it should also be comfortable for small hands. The Grover Rotomatic 18:1 tuners look pretty sturdy and tune easily. All of this ensures that the guitar is singable and durable. The Hummingbird Studio is also equipped with Fishman electronics for use as an electric, but that's not what today is about.
The Epiphone Hummingbird Studio, with its retro-style shape, build quality, and the features described earlier, can provide a loud, deep, spacious sound with good projection. Especially in the lower part, which is essential for blues performance. The sound will reach every corner of the room. Of course, you shouldn't expect it to be flawless. But considering the price, it completely satisfies all the objectives.
Key specs
Scale, in/cm: 24.72/62.8.
Frets: 20.
Fretboard radius, in/cm: 12/30.4.
Type: acoustic/electric.
Body material: mahogany.
Neck material: mahogany.
Neck joint: fixed.
Pros
Solid wood materials.
The fingerboard is comfortable for small hands.
Yamaha FG800 – beginners blues guitar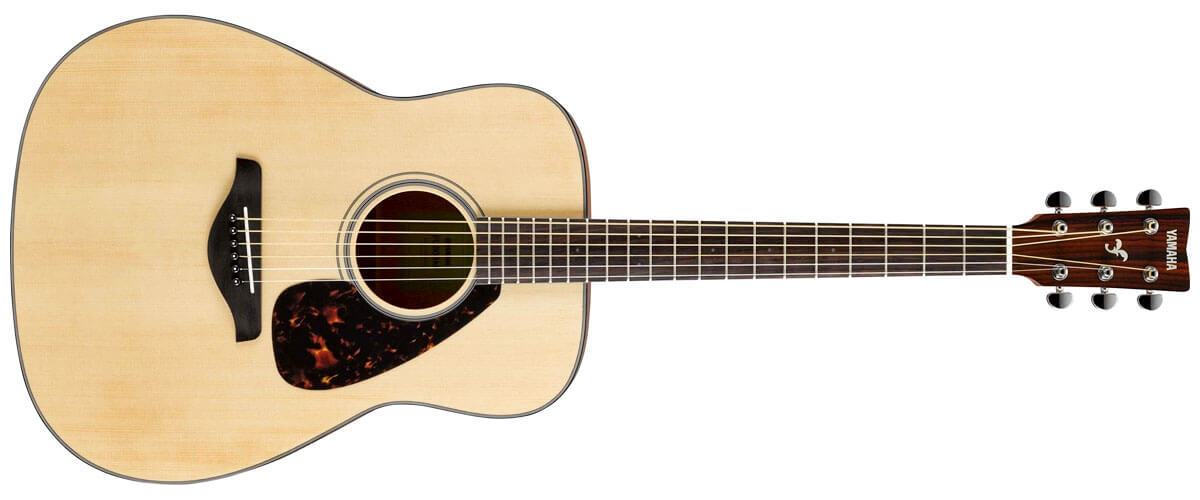 In my opinion, the Yamaha FG800 is probably the best beginner blues guitar. After all, Yamaha is one of the top three manufacturers of guitars today. Yes, the makers saved money on materials, but they treated their budgetary brainchild as carefully as they did the instruments of the highest class. Either way, the guitar will not disappoint, especially if you are just learning to play.
The traditional Dreadnought look with the tapered waist, solid spruce top, Nato/okoume (AKA Eastern Mahogany) back and side panels, Walnut fingerboard with rounded edges, and cast steel tuners will last long and provide a warm full-sounding tone. Like the Epiphone Hummingbird Studio, the body has no cutaway. The fingerboard mounting type is glued in, which is also a factor in longevity and a deep, spacious sound. But most importantly, this guitar is extremely comfortable and easy to play, which is why it is so often recommended to beginners. I would also note the fins. As for me, they are flawless.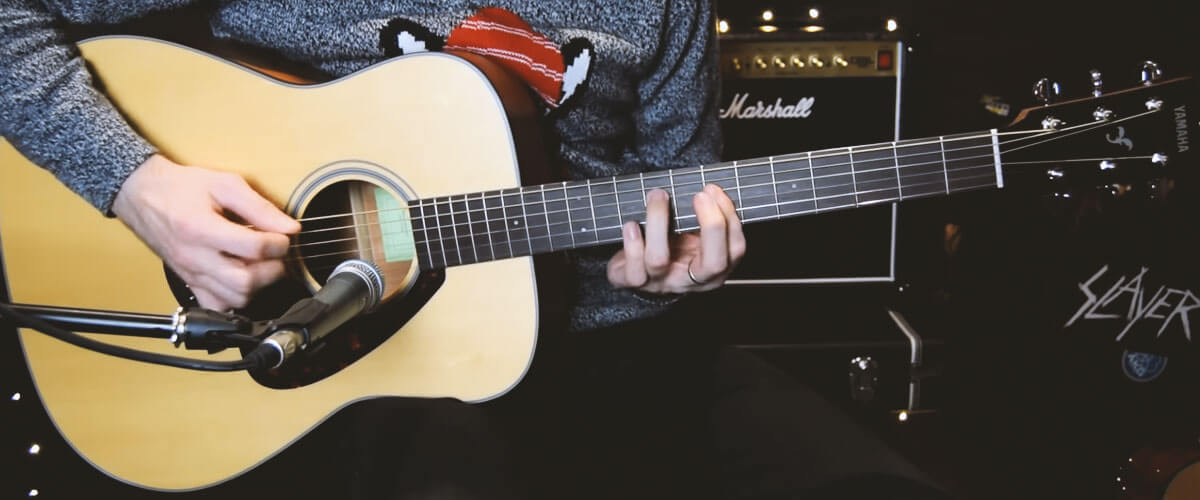 The Yamaha FG800's special feature is the scalloped brackets that make it thicker and louder. They literally take the guitar several levels higher, giving its acoustics more bass. As a result, the instrument sounds expressive and holds the tone well.
All in all, this is a striking guitar in its price range, standing out from the competition. It has been a bestseller for many years, not without reason, as evidenced by the many reviews by musicians in various categories. The authenticity of its look and sound, as well as the Yamaha logo on the fingerboard, won't leave even your skeptical friends indifferent.
Key specs
Scale, in/cm: 25.59/65.
Frets: 20.
Fretboard radius, in/cm: 15.74/40.
Type: acoustic.
Body material: nato/okoume wood.
Neck material: nato wood.
Neck joint: fixed.
Pros
Impeccable fretboards.
Scalloped brackets.
Cons
No cutaway.
Not the highest quality materials.
Yamaha AC3M – under $1000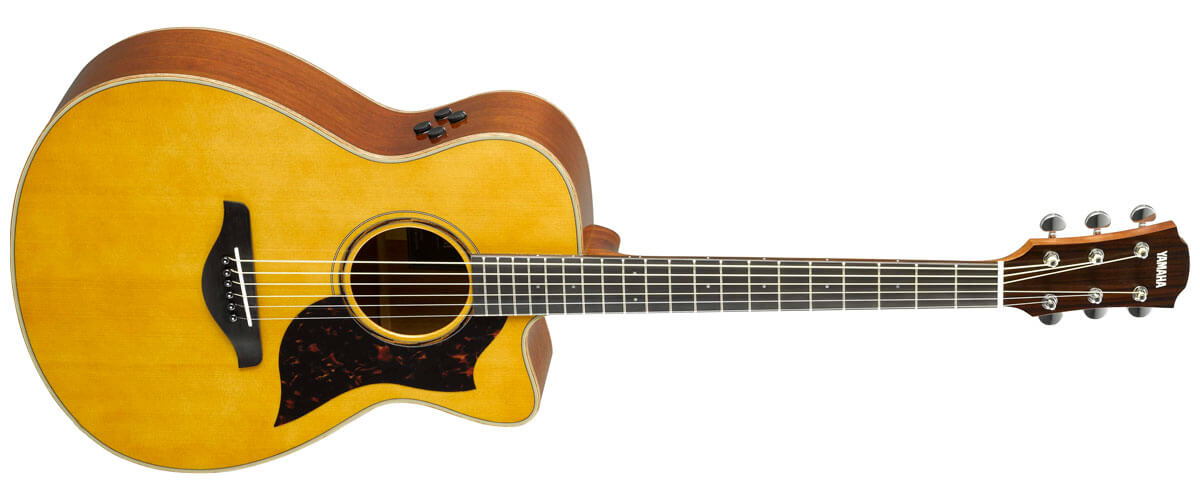 Yamaha AC3M is next on my list. This Concert Acoustic-Electric Guitar is great for blues performance in its characteristics. The solid top is made of Sitka spruce with A.R.E. technology (moisture and volatile removal). The solid mahogany back and sides give the guitar stability, vintage-sounding character, and bright warm tones in the low and high frequencies.
Unlike the Epiphone Hummingbird Studio and Yamaha FG800, this guitar has a concert shape with a traditional cutaway. In addition, the new scalloped guitar top and shorter back bracing system make them resonate naturally with more volume, increasing the volume in the mid and low ranges.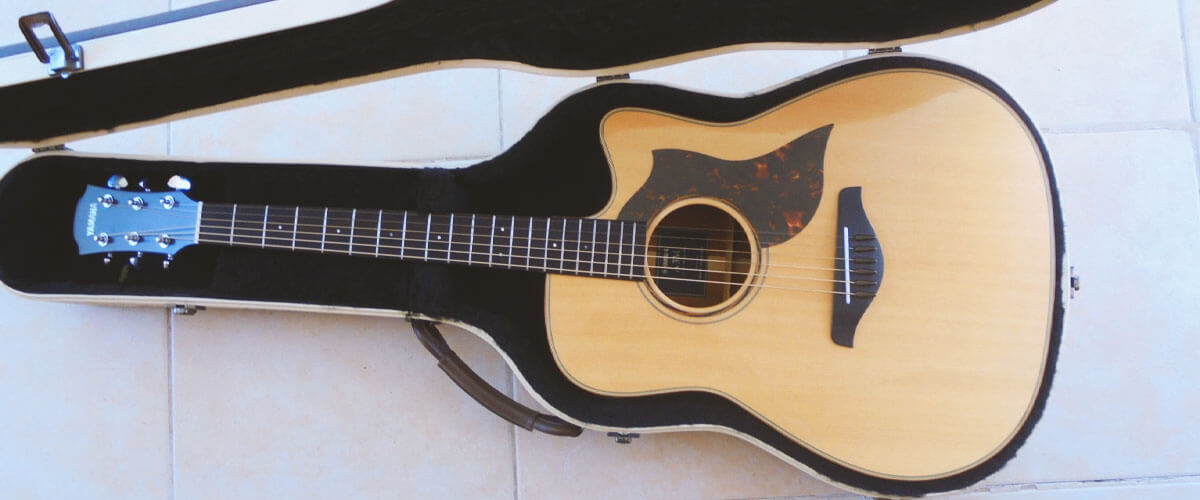 As for the African mahogany fingerboard (3 pieces), it has a flatter profile that makes it easier to play high frets, and the edges of the ebony fingerboard are hand rounded. The type of fingerboard mounting is glued. I don't think it will be the most comfortable for musicians with thin fingers, but individual approach and technique are important here. And it's also worth noting that this guitar looks a bit smaller than American and European models. You should know this before you buy it, and understand how important such details are for you.
In any case, I think this is one of the great blues acoustic guitars under $1000. It is suitable for any playing style but is especially praised by performers who prefer fingerpicking. In my opinion, no Dreadnought is balanced enough for playing by fingers, and here you will find volume, balance, and a really good sound! It also looks amazing.
Key specs
Scale, in/cm: 25.59/65.
Frets: 20.
Fretboard radius, in/cm: 15.74/40.
Type: acoustic.
Body material: mahogany.
Neck material: mahogany.
Neck joint: fixed.
Pros
Improved scalloped bracing system.
There is a cutaway.
Cons
Not the most comfortable fingerboard for musicians with thin fingers.
Martin LX1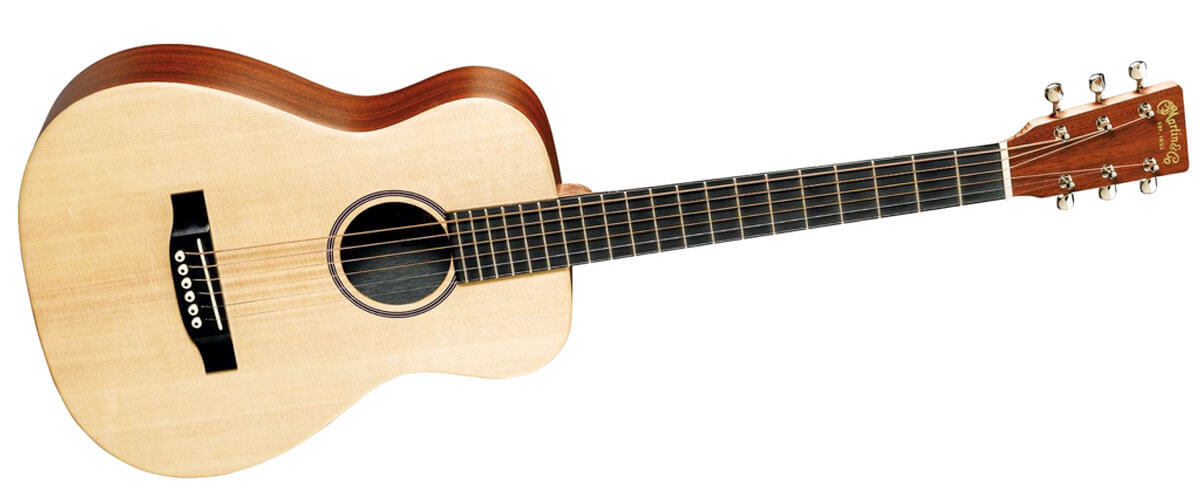 So, I present to your attention the Little Martin LX1 miniature guitar – a great acoustic guitar of the highest quality to play blues. The main difference between this "pick up and play" model and all presented is its size of ¾ standard guitar, which makes it convenient for children, beginners, or those who like to travel. Its manufacturer used original materials, which ensured the durability of the guitar and influenced the high quality of its sound, despite the acceptable price.
For example, the top of the Little Martin LX1 is made of hand-finished solid Sitka spruce, which makes it sound great, while the back and sides are made of mahogany with an HPL finish. These are moisture-resistant materials, which is why this guitar is in the Travel category. Also, the sound quality is influenced by the Style X crossbody installed inside the body. This top brace provides structural stability and controls the vibrations of the top of the guitar.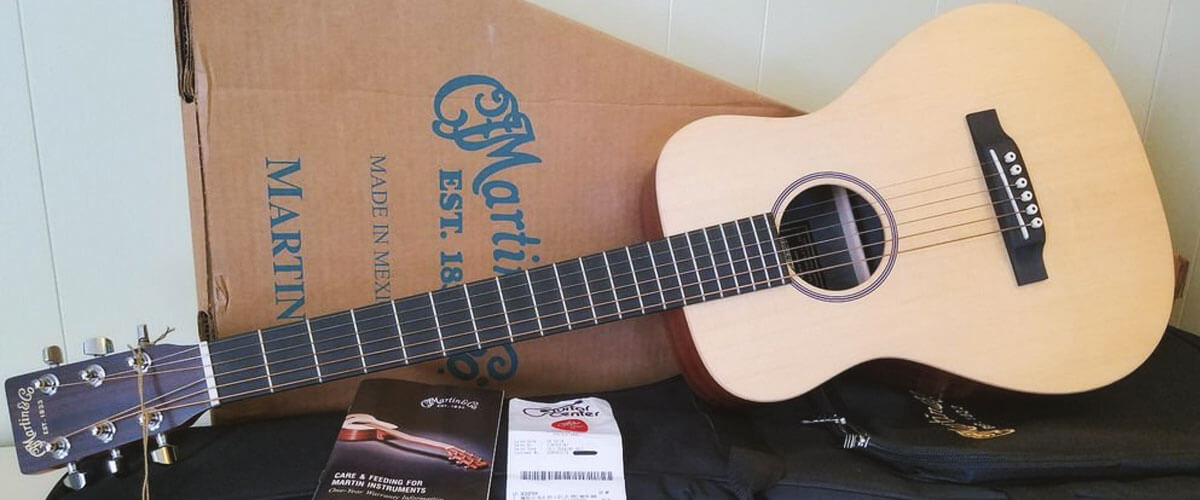 The neck is attached to the body with a Mortise and Tenon joint system and is made of Stratabond material, which is similar to mahogany in its resonance properties. It's pretty comfortable in the hand. The fingerboard pad here is made of Richlite. It's an unusual material, and it's not a favorite among connoisseurs, but I'm sure it won't be a problem for beginners.
The Little Martin LX1 provides a balanced, smooth tonal sound, but because of its size, it is not capable of giving the volumetric sound of full-size guitars. That's not to say it's not good enough, but you need to be aware of these things ahead of time and be prepared to choose between the benefits of its size and the fullness of its sound. Nevertheless, for blues performance, it's surprisingly good, and that's what I'm interested in this review.
Key specs
Scale, in/cm: 23/58.4.
Frets: 20.
Fretboard radius, in/cm: 16/40.6.
Type: acoustic.
Body material: spruce.
Neck material: Rust Birch laminate.
Neck joint: mortise tenon.
Pros
Suitable for children, beginners, and travel.
Moisture-resistant materials.
Cons
Due to its size, it cannot give surround sound.
Fender CD 60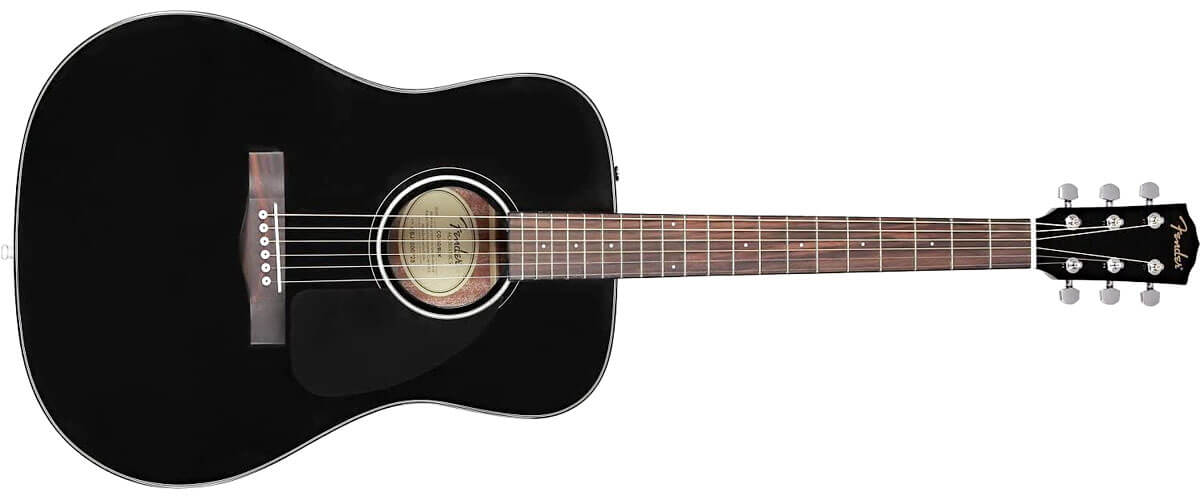 To conclude our tour, I can't ignore the good blues acoustic guitar Fender CD 60, which is remarkable not only for its sonorous name but also for its surprisingly low price. It's a great alternative to more expensive guitars, first of all, because of the materials it's made of, so it sounds great too.
The guitar has a classic Dreadnought shape. Its top is made of laminated spruce, the back and sides are made of laminated mahogany, and the inside of the soundboard has Scalloped X Bracing for better resonance. The polyurethane coating ensures that the instrument is sturdy and resistant to minor knocks and dents. Perhaps that's why it's often referred to as a "road guitar" or a "campfire guitar." All of these qualities provide a deep, rich tone, especially when played with your fingers, although it lacks definition on certain notes.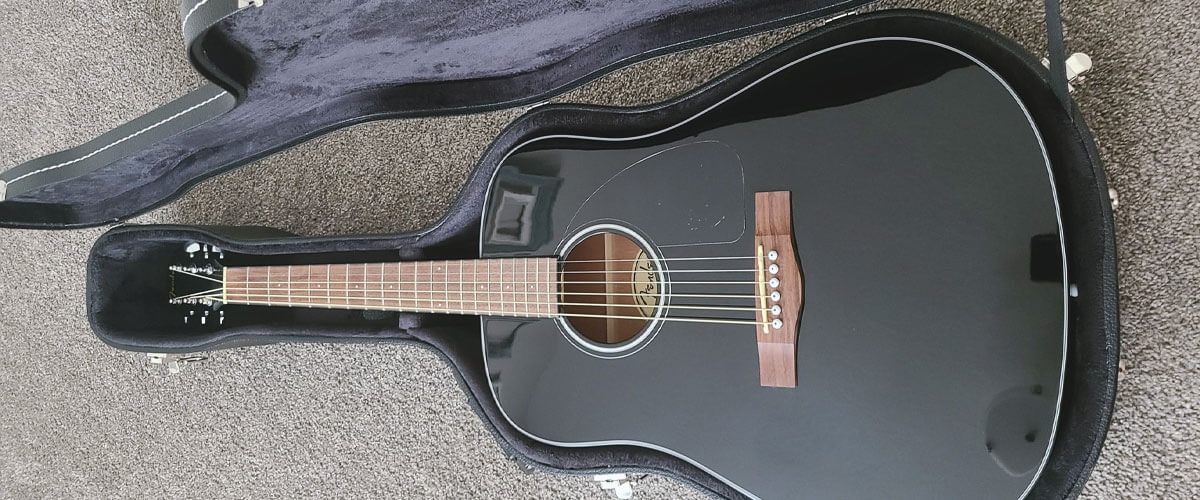 The 20-fret "easy to play" glued-in fingerboard is quite comfortable. It is made of Nato with a Rosewood fingerboard and fastened to the body by the "dovetail" type. The Fender Die-Cast tuning pegs provide stability even while playing intensely, which is untypical for guitars in this price range, and they hold the tone for a long time. Overall, the guitar sounds nice and velvety, the low bass stands out, and the Rosewood finish minimizes and absorbs minor inaccuracies in the high tones, but it can be overly resonant.
The Fender CD 60 acoustic guitar is suitable for blues if you treat it as it deserves to be treated. It's not a top-of-the-line guitar but rather a spare camping guitar that you're not afraid to take with you on the road. Believe me, it will surprise you with its durability and its sound, which only improves with time.
Key specs
Fender CD 60
Scale, in/cm: 25.3/64.3.
Frets: 20.
Fretboard radius, in/cm: 12/30.4.
Type: acoustic.
Body material: mahogany.
Neck material: mahogany.
Neck joint: fixed.
Pros
The polyurethane coating guarantees the durability of the instrument.
Inside the body has Scalloped X Bracing for better resonance.
Cons
Not a top-of-the-line, stock cheap guitar.
Can be overly resonant.
Do not forget to buy
D'Addario EJ15 – best acoustic guitar strings for blues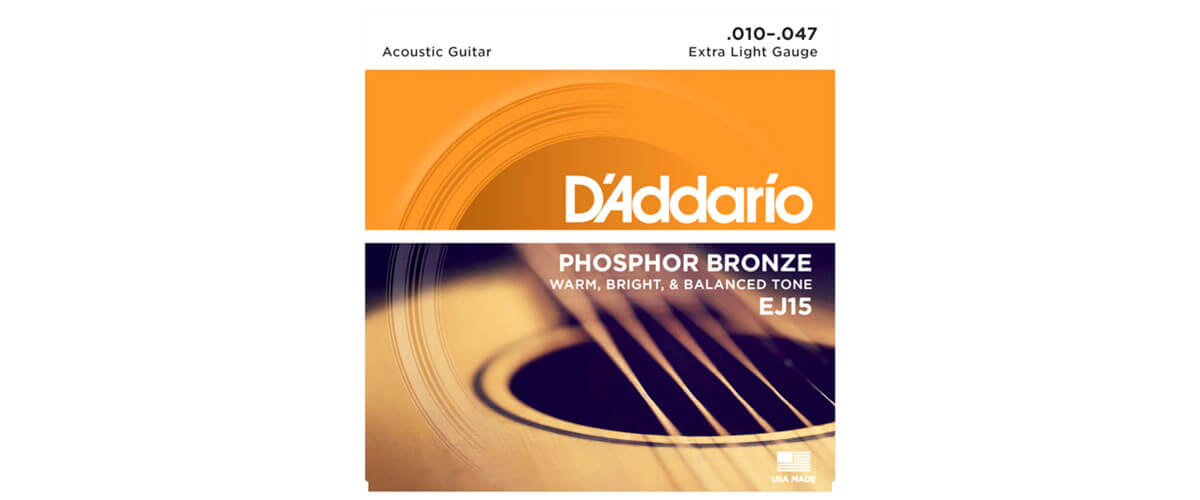 FAQ
Body style and guitar size for blues
Some guitarists prefer
smaller bodies
for greater comfort and ease of movement, while others prefer larger bodies for more volume and sustenance. As for guitar size, many blues players prefer a standard-sized guitar, but there are also a number of players who prefer smaller guitars for easier maneuverability. So it all depends on your skills, experience, and preferences.
How many hours a day should I practice guitar to play blues?
First, decide how you are going to study. You can study with a
teacher
, or you can study on your own. The main thing is that you study every day for at least 30-45 minutes.
What gauge strings are best for blues?
Some players like light gauge
strings
for a mellower sound, while others prefer heavier gauge strings for a more powerful tone. But, again, it all depends on your preferences and experience.
What scale is most used in blues?
Tuning for blues guitar
There are a few basic tricks you need to master to tune your guitar correctly for the blues. The first is called "standard tuning. This is the most common way and consists of the following notes: E-A-D-G-B-e.
The second technique is called "drop D tuning." You simply lower the low E string by a whole notch to D to tune your guitar to drop D.
The third technique is called "open tuning." This means tuning the strings so that they form a chord when open playing.
We are supported by our audience. When you purchase through links on our site, we may earn an affiliate commission at no extra cost to you.
Our newsletter
* We will never send you spam or share your email with third parties