As you know, there are no special guitars for any particular style. But each genre implies a certain sound, so you can choose the instrument that suits it most. In this selection of best guitars for worship, I've presented you with instruments that will especially sound in the Church because the performance of such music should be with a special atmosphere, filled with inspiration, thought-provoking, and praise-giving. To begin, we'll look at what details of the guitar can affect its sound, making it warm and powerful, deep and rich, and allowing the leader to perform the music without difficulty since he has to be on stage for a long time.
Our pick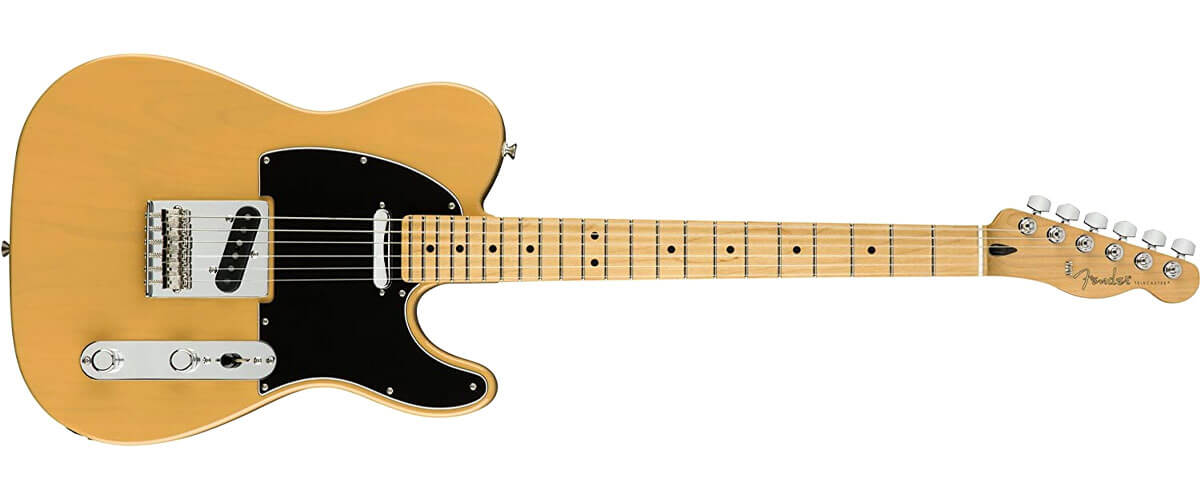 Fender Player Telecaster
Best guitar for worship
The Player Telecaster is a Fender guitar with a classic Fender feel and style. It's versatile enough to handle almost any style of music and sounds great whether you're playing quietly or loudly.
Read the full review
.
Guitars for worship comparison table
Name
Scale, in/cm
Frets
Fretboard radius, in/cm
Type
Body material
Neck material
Review
Fender Player Telecaster

best overall

25.5/64.8
22
12/30.5
electric
alder
maple
Review
Yamaha PAC012DLX

budget

25.5/64.8
22
13.8/35
electric
mahogany
maple
Review
Cordoba Fusion Orchestra CE

acoustic guitars for worship

25.6/65
19
14.5/36.8
acoustic/electric
solid western red cedar
mahogany
Review
What to look for in guitars for worship?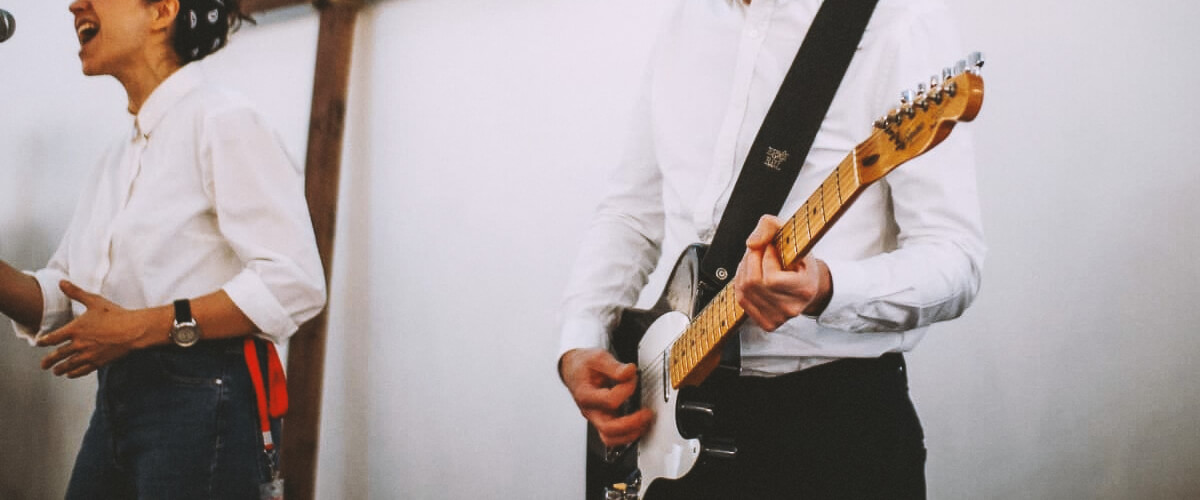 Types of Guitars
Let's look at what can make a guitar great to lead worship, and we'll start with type. There are different types of instruments, such as acoustic, electroacoustic, classical, and electric. And since we mean "live" performances, I recommend electric guitars the most. Also, in my review, you will find an acoustic guitar that can connect to electronics.
Materials
Body
The wood used in making guitars affects the tone and resonance of the instrument and, therefore, the result of what we hear from the stage. The most popular electric guitar body materials whose solid bodies are reliable and durable include Ash, Alder, Mahogany (gives a warmer sound), and Maple (gives a brighter sound), which is due to the natural properties of these woods. This list of woods is also true for acoustic guitars, and it is also important to use solid body parts.
Neck
The material of the guitar's neck is just as important to the sound. It affects the sustain, the playability, the swing of the strings, and as a consequence, the tone of the guitar. Therefore, Maple, Mahogany, and Rosewood are among the woods used to make this part of the instrument the most popular. For example, Maple provides a bright, sharp sound with less sustain, while a Mahogany neck can provide a warmer, smoother sound with more resonance.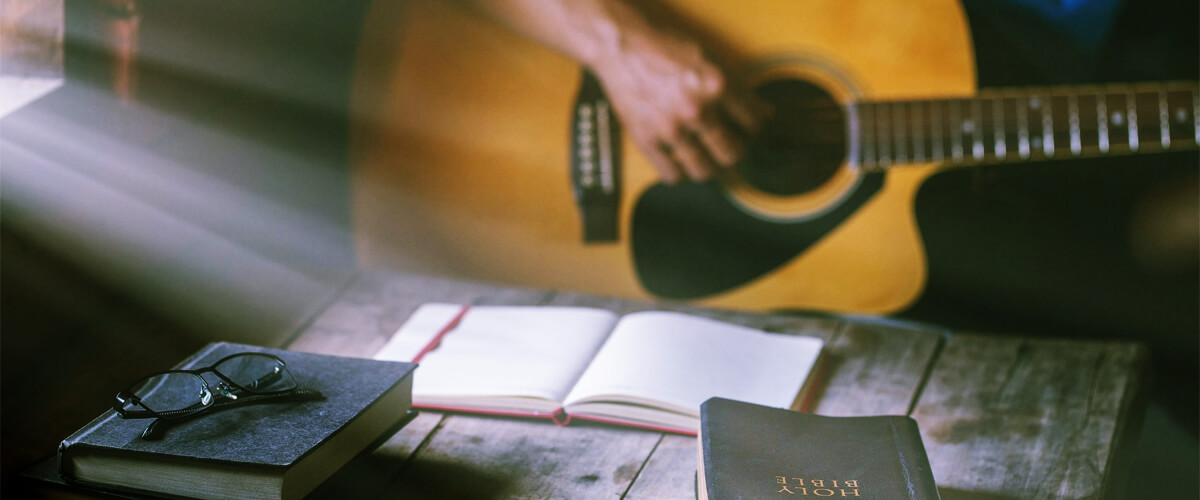 Fretboard
The sound of a guitar is not as dependent on the fingerboard material as it is on the wood of the main parts of the instrument. And yet it can have a significant effect on the way it feels and is comfortable to play. This, in turn, affects a guitar's timbre. The most popular fretboards are those made of Maple (which provides a brighter sound), Rosewood (the most common universal material), and Mahogany (which provides a smoother playing surface), as they are the most durable.
Finishes
The type of surface finish on a guitar can also affect its tone, especially if applied in a thick, dense coat. But in any case, since wood is highly exposed to external influences, you can't do without a coating. It is considered that acrylic and polyurethane varnishes are the most common types of guitar finishes. They are applied in a thin layer, which is enough to protect, but reduces the impact on the natural tone of the wood. You can also find polyester coatings, an inexpensive alternative to polyurethane. Nitro paint, varnish, spray paint, and ceramic can also be great finishes.
Playability
One of the important factors in choosing a guitar, especially if we're talking about worship, is its playability, that is, how comfortable you are with it on stage for several hours. It should be light and comfortable, hold the tuning well, and not force you to struggle during a performance. I don't think giving clear recommendations is possible because every musician, with time, comes to a certain personal understanding of comfort. However, it would help if you focused on the guitar's size and shape, considering the distance between the strings and the neck and the profile of the fingerboard.
Best guitar for worship reviews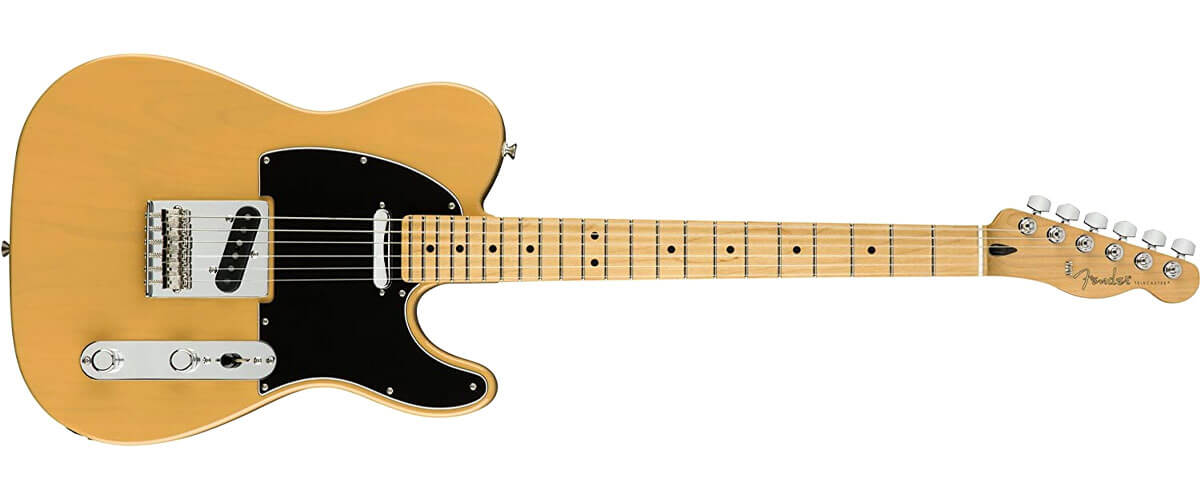 Better known in musician circles as the "one-armed pony," the Fender Player Telecaster has fans and critics alike. And yet it remains one of the brand's most popular models for many years because its legendary shape first saw the light of day in 1950.
The guitar is representative of the entry-level lineup (it has great bright colors, by the way) but offers us high build and sound quality along with a nice price. And let's not forget that this is Fender, which means we are in for a fascinating review.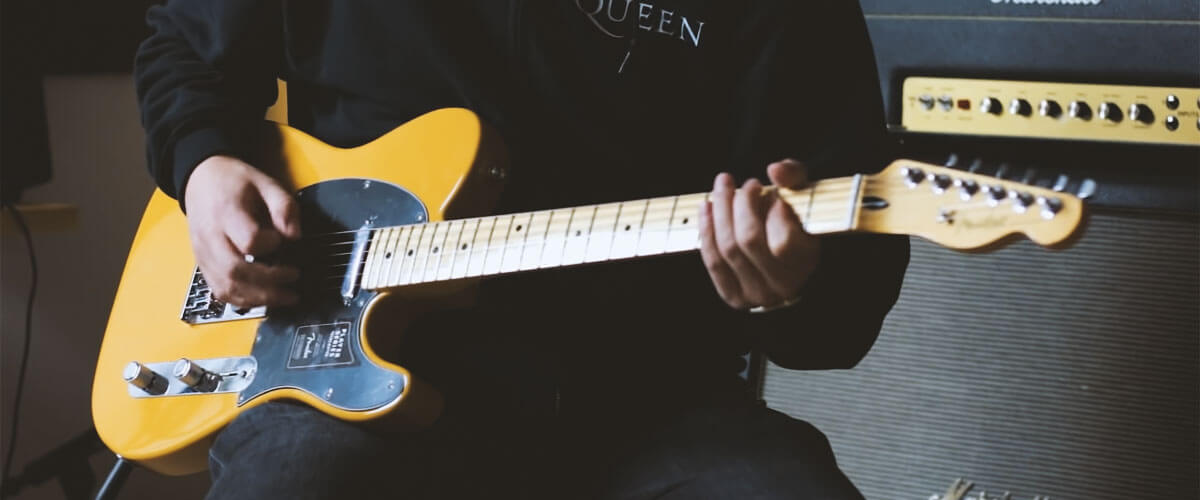 From what we might be interested in as a worship guitar, the Player Telecaster has a solid Alder body (with Gloss Polyester Finish) and a solid Maple neck (with Satin Urethane Finish on the Back, Gloss Urethane Finish on the Front), giving it a warm sound with bright resonance. In addition, the neck is very comfortable for most musicians with different hand sizes because it has a Modern C-shape with a 9.6″ radius, 25.5″ scale length, and 22 Medium Jumbo frets on Maple fingerboard. A cutaway on the body provides easy access to the upper register.
The guitar's electronics and fittings (plastic tuners) are a pretty basic but not high quality due to the overall price. However, its 2 passive SS Player Series Alnico 5 Tele Single-Coil configuration pickups and Bridge 6-Saddle String-Through-Body Tele provide clean, detailed sound with good power. And its 3-position switch makes the instrument quite versatile. It holds tuning well, but it's worth knowing your relationship to the bent steel, as it generates the most controversy around the model.
I like the clean, multi-tonal sound of the guitar, which suits many genres. I find it very comfortable, and the combination of the virtues mentioned above makes it the best electric guitar for worship on my list.
Key specs
Scale, in/cm: 25.5/64.8.
Frets: 22.
Fretboard radius, in/cm: 12/30.5.
Type: electric.
Body material: alder.
Neck material: maple.
Neck joint: bolt-on.
Pros
The build quality is high.
The guitar is easy to tune and stays tuned for a long time.
Pretty versatile and provides a warm sound.
The satin finish neck is incredibly comfortable and fits all hand sizes.
Cons
Many players don't like the bent steel saddle.
Yamaha PAC012DLX – budget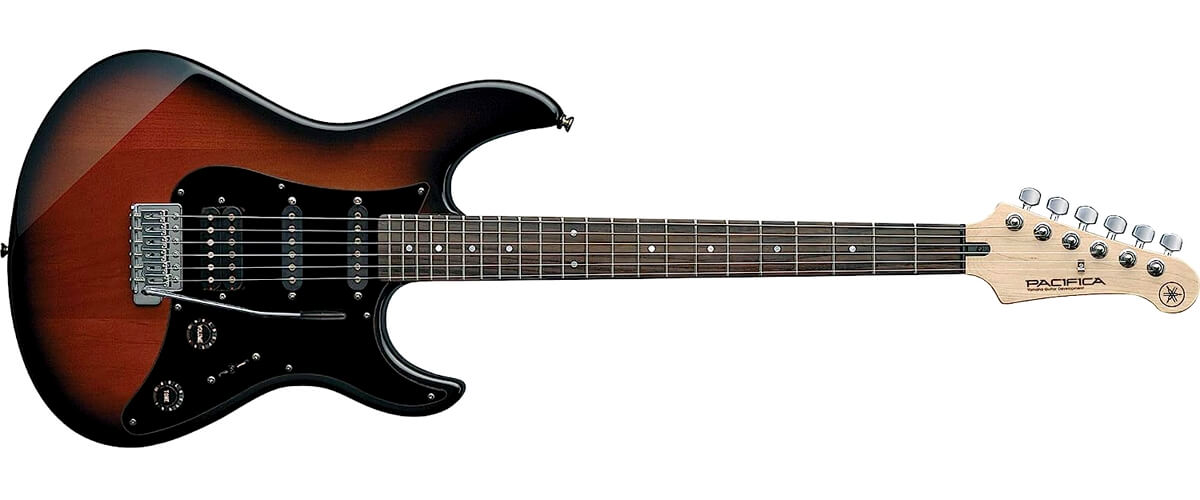 The Yamaha PAC012DLX is a special version of the most affordable model produced by the company. It differs from the original in the wood material for the body (the PAC012 has a Mahogany body). But when it comes to budget instruments, you must be willing to compromise, especially since it has virtues that fit my list, including excellent build quality.
So, the body of this guitar is made of Agathis with good resonance properties, unlike the other models on the list, whose bodies are made of better quality wood (except Squier Affinity, which also uses inexpensive material). But the smooth C-shaped Maple neck with Sonokelin on it provides stability when playing dynamic compositions and is incredibly easy and fast. On the 25.5″ scale with a 13.75″ radius, there are 22 Jumbo frets which are very comfortable to play because of the instrument's shape (it has two cutaways). The guitar is very light and will be easy to play on stage.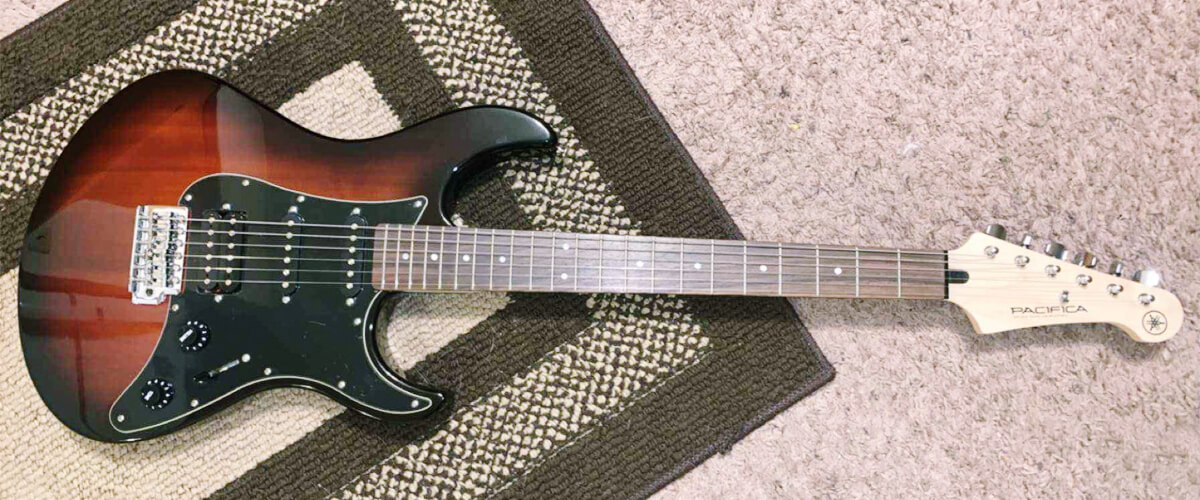 The Yamaha PAC012DLX fittings and electronics are also quite simple. The Vintage Tremolo bridge and nut are made of Urea, similar to plastic, and the 3 passive HSS configuration pickups (Bridge Humbucker and 2 Single Coil Pickups) are made of Ceramic. But the tuners are chrome-plated and keep the tuning perfectly, which, by the way, had to be adjusted because the guitar doesn't sound very good out of the box.
The PAC012DLX is versatile with its 5-way blade pickup switch and can sound clean and tuneful or pretty distorted and Rocky. It's even more versatile than the Fender Player Telecaster. I love this instrument, it's a pleasure to play, and I would safely nominate it as the best worship guitar among the budget ones.
Key specs
Scale, in/cm: 25.5/64.8.
Frets: 22.
Fretboard radius, in/cm: 13.8/35.
Type: electric.
Body material: mahogany.
Neck material: maple.
Neck joint: bolt-on.
Pros
Great build quality for its price.
Very comfortable to play on the C-shaped Maple neck.
The chrome tuners hold the tuning well.
Wide tonal range thanks to the 5-way blade pickup switch.
Cons
Not the highest quality body wood and furniture.
Requires a little tuning out of the box.
Cordoba Fusion Orchestra CE – acoustic guitars for worship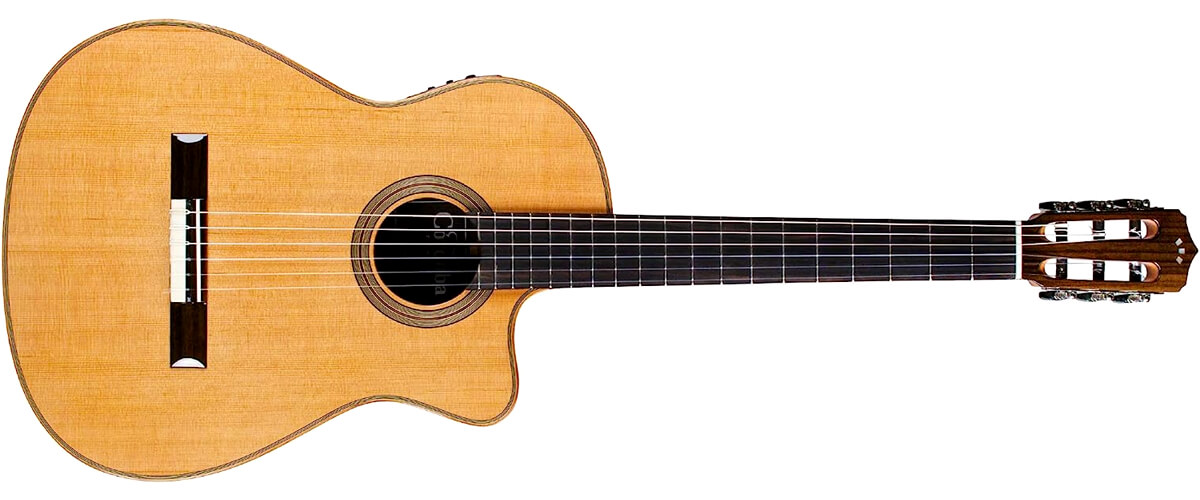 Cordoba makes acoustic guitars of varying levels but always of the highest quality. The Orchestra CE in Fusion style is the most popular model among connoisseurs, and I award it the status of the best acoustic guitar for worship. Let's see what makes it unique and why I came to that conclusion.
The materials used for the guitar's body are Canadian Cedar for the solid top with Top Binding Mahogany and Rosewood for the back and headstock with a Glossy Polyurethane finish. And it looks amazing as if woven from fine fibers. Great Slim Crossover C-shaped neck (fingerboard radius 16″) is made out of Mahogany, and its Ebony fretboard has only 19 frets (fixed to the body at fret 12) on a 25.5″ scale which increases resonance and vibe throughout the soundboard and makes playing it fast and easy. This guitar will be comfortable even for people with small hands or thin fingers, which I am of. In addition, the cutout on the body makes it easy to access all the frets.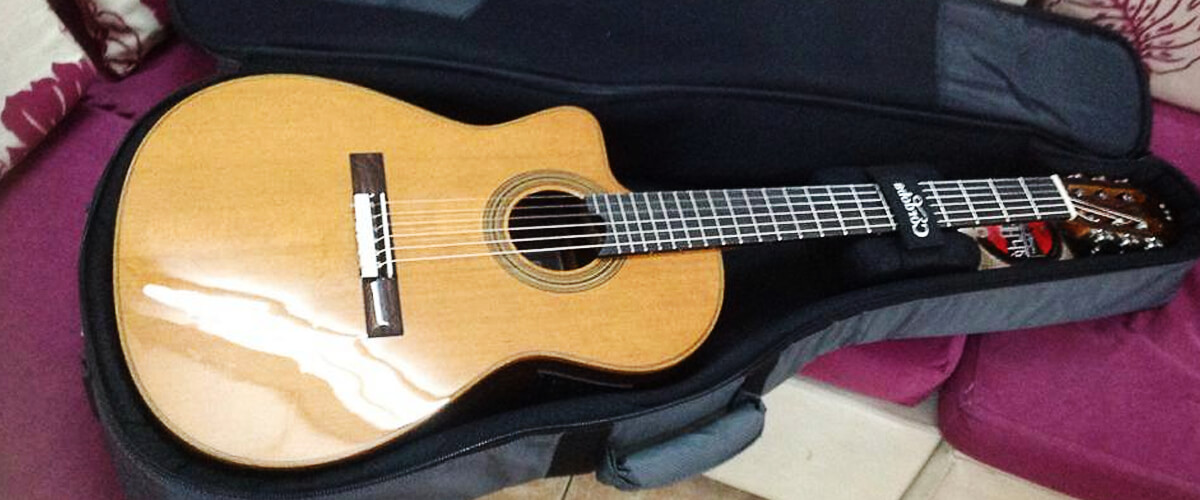 The Cordoba Orchestra CE is on my list because it also has a Fishman Presys Blend OEM-PSY-B03 preamp with an Undersaddle Piezo pickup and a built-in tuner will make playing it on stage brighter and give you a clean, rich acoustic sound. In addition, the Cordoba Silver with Black Buttons are of good quality and hold the tone long and well.
The Orchestra CE, with its Cantiga High Tension 510AJ strings, gave me a pleasant experience of comfort, simplicity, and a pleasant sound. It will appeal to those who like fingerstyle, but the chords sound great on it as well. The sound is voluminous and rich, with an enveloping warmth and softness. This model is quite versatile and will be great for worship.
Key specs
Scale, in/cm: 25.6/65.
Frets: 19.
Fretboard radius, in/cm: 14.5/36.8.
Type: acoustic/electric.
Body material: solid western red cedar.
Neck material: mahogany.
Neck joint: glued.
Pros
High-quality wood is used in the making for great tone.
The incredibly thin Crossover C-shaped neck is comfortable even for small hands.
Excellent Fishman Presys Blend electronics.
The guitar holds its tuning well and for a long time.
Cons
I did not find any significant flaws during my testing.
Epiphone Les Paul Custom
The version of the famous Gibson Les Paul guitar retains all the original traditions but will spare your savings. Based on the 1954 Les Paul "Tuxedo" model, it has already won fame among musicians for its decent quality, versatility, and stunningly warm sound.
Of course, it's not hard to guess that the guitar's body is shaped and styled like a Les Paul with a cutaway on the body for easy access to all the frets without exception. It looks magical in both colors, Ebony or Alpine White, with its gold hardware, and will get everyone's attention from the first moment you show it. The solid Mahogany body is covered in Gloss, and her 60s SlimTaper Mahogany neck fits the look beautifully. But be prepared that the Epiphone Les Paul Custom is quite heavy (unlike the other models on my list), and it will be difficult to be on stage for hours for inexperienced players with weak muscles.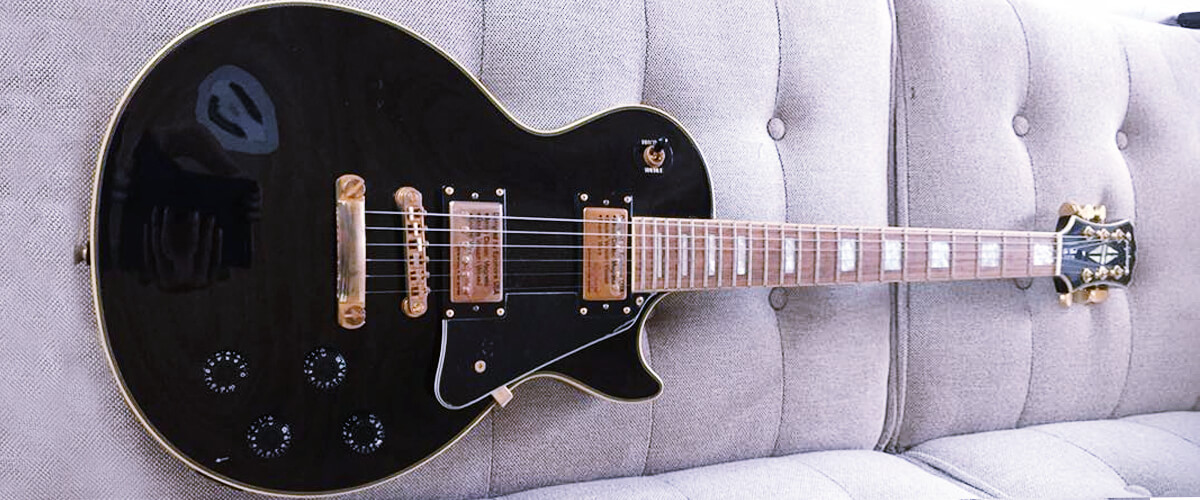 Another thing worth mentioning is its playability, thanks to the 12″ radius Ebony fingerboard with 24.75″ scale length, 22 Medium Jumbo frets (suitable for small hands, among others), and Grover Rotomatic tuners, which are perfect for tuning.
Les Paul Custom's electronics are a system of PAF-style humbuckers: Neck Pickup Epiphone ProBucker 2 and Bridge Pickup Epiphone ProBucker 3, which sound amazingly similar to the original Gibson Burstbucker, though not as high quality, of course. They are controlled by a 3-way Epiphone toggle selector that splits or combines the humbucker operation as you wish, making the guitar's range pretty versatile.
I certainly like its recognizable voluminous, warm deep sound. I've tried different styles on it, and it sounds great in any of them, thanks to the ringing tops and great bass. The Epiphone Les Paul Custom could be the ultimate Christian guitar.
Key specs
Scale, in/cm: 24.7/62.8.
Frets: 22.
Fretboard radius, in/cm: 12/30.5.
Type: electric.
Body material: mahogany.
Neck material: ebony.
Neck joint: glued.
Pros
A very accurate replica of a Gibson in a chic design with a versatile warm sound.
Used Mahogany for the body and neck.
Very comfortable neck for easy playability.
Grover Rotomatic Tuners hold the tuning perfectly.
The PAF-style humbucker system achieves a versatile sound similar in tone to the Gibson Burstbucker.
Cons
You need to have strong hands to play it for a long time.
Squier Stratocaster Affinity HSS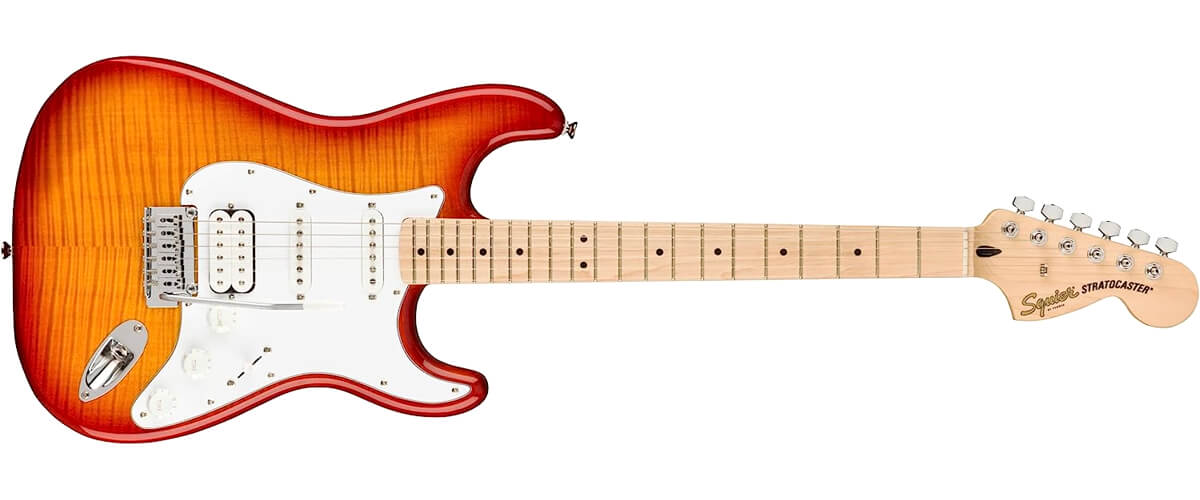 Please don't accuse me of handing out favors to the Fender brand. After reading this review, you will know that the Squier Affinity Series Stratocaster HH is deservedly on my list. This model is much more affordable than the Fender Player Telecaster, as it is a member of the entry-level lineup, but in terms of its parameters, it will be a perfect fit for worship. On top of that, it has a refined, lightweight body, making it perfect for long performances.
Yes, the body material of this instrument is Poplar with a Glossy finish, but again I remind you of the trade-offs when it comes to guitars of this rank. It's very bright, though. The neck, on the other hand, didn't fare as well. It's slim, C-shaped, made of Maple with an Indian Laurel overlay, and has 21 Medium Jumbo frets on a 25.5″ scale with a 9.5″ radius. This guitar is built for easy, comfortable playing, although you will initially have to work around the slightly rough edges of the fret. It is a fairly common flaw with inexpensive guitars.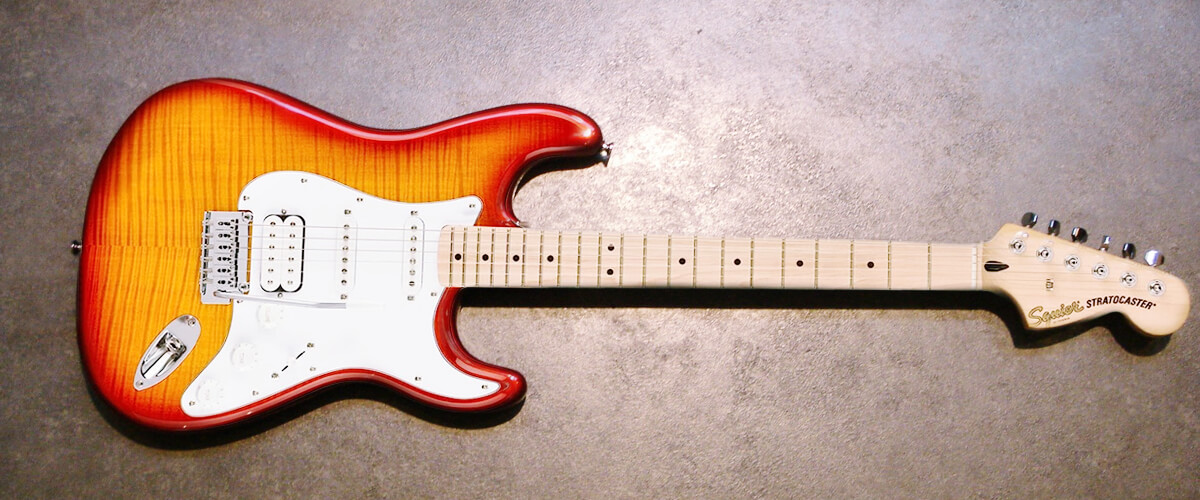 The electronics on this guitar are expectedly simple and ceramic, but the 3-band switch extends the tonal range enough that it sounds great in various songs.
While playing, the Squier Affinity Series Stratocaster HH made me raise an eyebrow in surprise. It holds the tuning wonderfully, sounds deep and warm, and is very supple and responsive in my hands. The sound is clear and crisp, but you can add overdrive if needed.
I definitely see it among guitars for Christian music because it is stage-worthy and can give the performer and listeners the level of warmth and inspiration that I expect from a worship style.
Key specs
Scale, in/cm: 25.5/64.8.
Frets: 21.
Fretboard radius, in/cm: 9.5/24.1.
Type: electric.
Body material: poplar.
Neck material: maple.
Neck joint: bolt-on.
Pros
It's lightweight, which makes it perfect for the stage.
Consistent with the classic Fender Stratocaster sound.
Holds stability beautifully when played for long periods.
Cons
Uneven fret edges, though this can quickly be fixed yourself.
Simple ceramic humbuckers.
Common misconceptions related to worship guitars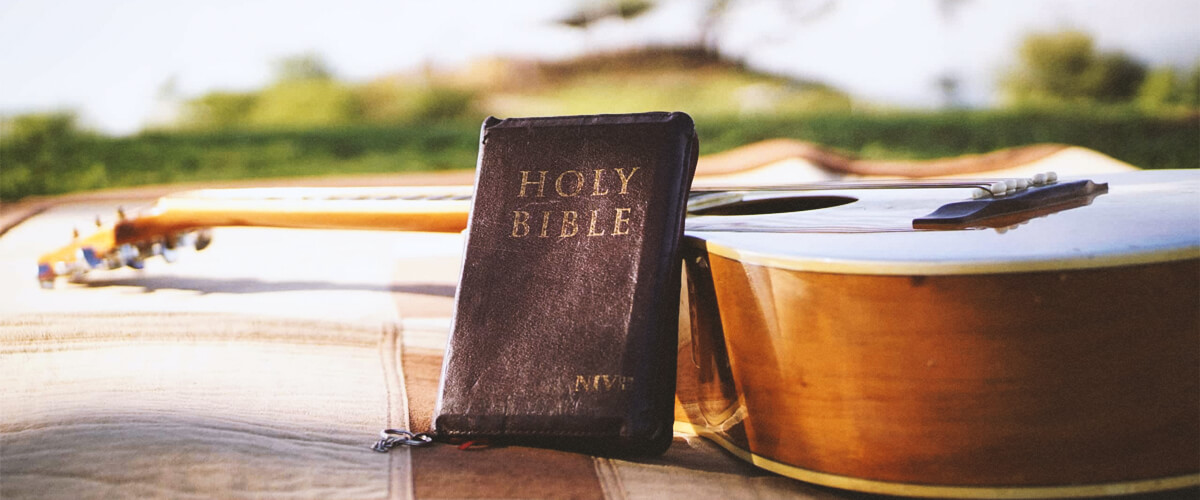 Now, let's talk about some common misunderstandings regarding worship guitars. These myths can cloud our perception of these instruments, so it's important to clarify them.
Worship guitars are only for church musicians
They say that worship guitars are exclusively for church musicians. That's not true. Worship music extends far beyond the church walls, and anyone who wants to create spiritually uplifting music can use these guitars.
Worship songs should be played conservative
Another misconception is that worship guitarists should play conservatively, avoiding expressive techniques. In reality, worship music often carries strong emotions. So, guitarists often use expressive methods to connect with the audience.
Worship guitars should be only in standard tuning
You may think that worship guitarists should stick strictly to standard string tuning. However, many songs are written in alternative tunings, both closely related to standard and lower-pitched. Guitarists should feel at ease using different tunings to match the music styles in this genre.
I hope I have succeeded in debunking these myths so that you can better understand the versatility of worship guitars and appreciate their role in creating meaningful music.
FAQ
How to store guitars?
Knowing how to store guitars is an important part of your musical life. These products are made of wood, so there are some rules of care. With this knowledge, the instrument will serve you for years and reciprocate your love and care. For more tips on how to properly store guitars, check out
our article
.
Do I need a high-end guitar for worship?
Whether you need a high-end guitar for worship, only you can know. Of course, the expensive models are better quality and more reliable. But among inexpensive instruments, there are also very decent ones; they will last you for decades with proper care. I don't see the point in worship if you must spend all your savings to prove your devotion to the faith.
Do I need a guitar with a cutaway for worship?
Whether you need a guitar with a cutaway for worship depends on your habits and comfort. It is a must if you like to access the upper register. However, in case you do just fine without a cutaway, it's not a requirement.
acoustic guitars
without a cutaway sound fuller, but electric guitars are unaffected by their absence or presence.
We are supported by our audience. When you purchase through links on our site, we may earn an affiliate commission at no extra cost to you.
Our newsletter
* We will never send you spam or share your email with third parties