If I were asked what genre of music I consider the most soulful, I would mention Punk Rock, among others. The style originated as an offshoot of Rock music in the mid-1970s and is associated with youthful emotional protest, rejection, and an incredible sense of freedom. Of course, Punk implies fast, powerful playing; the songs sound aggressive and often challenging, with a provocation to the conflict.
My review is about the best guitars for Punk Rock, but I will surprise you by saying there are no such special guitars. But some guitars will suit an aspiring punk rocker more than others. So, we need a sturdy instrument with great overdrive. And before I present you with my list of optimal guitars for everyone, let's get familiar with the details to look out for before buying.
Our pick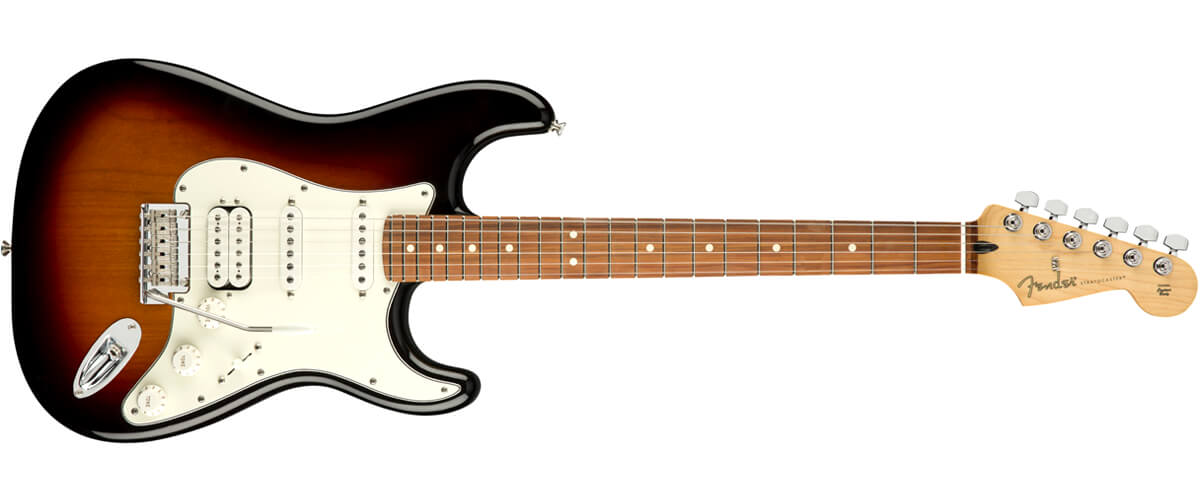 Fender Player Stratocaster
Best guitars for punk rock
The Fender Player Stratocaster features this classic sound—bell-like high end, punchy mids, and robust low end, combined with crystal-clear articulation.
Read the full review
.
Guitars for punk rock comparison table
| Name | Scale, in/cm | Frets | Fretboard radius, in/cm | Type | Body material | Neck material | Review |
| --- | --- | --- | --- | --- | --- | --- | --- |
| Fender Player Stratocaster best overall | 25.5/64.7 | 22 | 9.5/24.1 | electric | alder | maple | Review |
| Epiphone Les Paul Special-II E1 budget | 24.7/62.6 | 22 | 12/30.4 | electric | mahogany | laurel | Review |
| Schecter Omen-6 budget | 25.5/64.7 | 24 | 14/35.5 | electric | basswood | maple | Review |
What to look for in a punk guitar?
Solid body
For Punk Rock, we need a guitar with a one-piece body. What does that give us? First, it's sturdy, and I've already mentioned aggressive hard playing. Secondly, such guitars give a brighter, thicker tone, which you and I need. Thirdly, an electric guitar with a one-piece body holds a longer sustain. All of these qualities are essential for genres like Rock and Metal. Which means they're perfect for punk as well. Try it and compare. No hollow or semi-hollow guitar will sound the same; they are good in their genres.
Humbucker pickups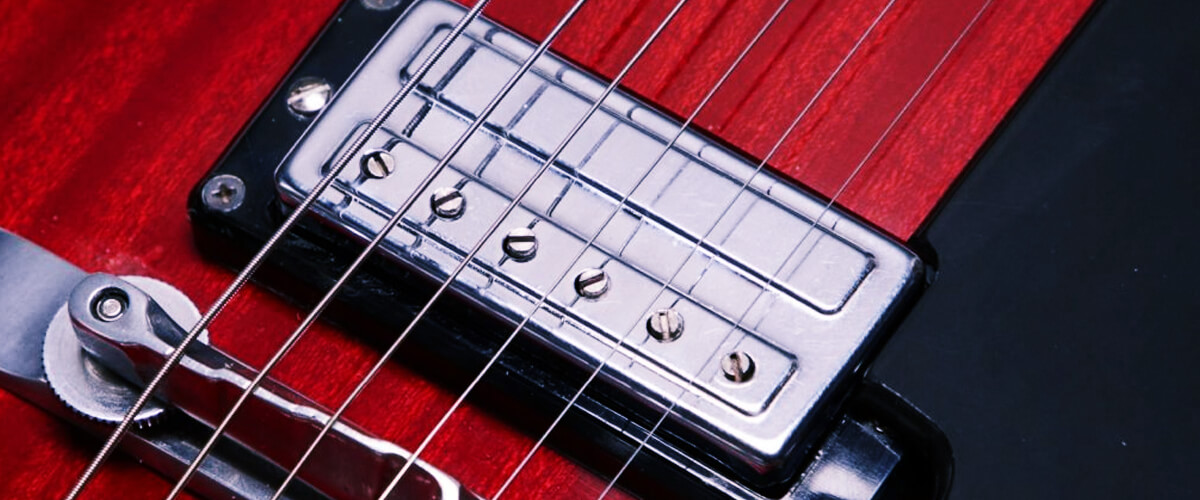 In case you didn't know, humbuckers are the most popular among punk guitarists for several reasons:
High power: Humbuckers have more power than single coil pickups (which produce a clean sound). It makes them well suited for the aggressive, high-gain playing style often associated with Punk Rock.
Noise Reduction: Single-coil pickups are more prone to picking up electromagnetic interference (EMI) from other sources of electricity, such as lighting or electronic devices.
Dense, full tone: Humbuckers produce a denser, fuller sound than single-coil pickups. They take more guitar vibration, resulting in a more "meaty" tone, which is good for the heavy distorted sound often used in Punk Rock.
Versatility: Humbuckers are versatile and can be used in various musical styles, from Blues and Classic Rock to Heavy Metal and Punk. They can produce a warm, smooth sound with clean playback or an obscene distorted sound with high-gain playback.
Fast neck
When we say that a guitar has a "fast neck," we usually mean the shape and feel of the fingerboard, which can affect how easily and quickly a guitarist can play. After all, the speed of parts is important for aggressive punk-style playing, which means your hand on the neck needs to move around without having to slow down or cling to anything. So a "fast neck" in the conventional sense usually has a thin profile and a smooth, comfortable surface that allows you to move up and down its surface smoothly but quickly. Also important is good fret access, which allows you to hit the highest notes easily. But it's important to remember one most important rule – what's comfortable for you is good. If you're much faster at playing a wide neck and it suits you, it's not worth changing habits for the trend's sake.
Good tuning stability
Another important characteristic of Punk Rock guitars is the scale's stability, or how well it holds a pre-set tone. There's nothing worse than a guitar that goes out of tune during a gig or even a rehearsal. Sure, new guitars hold tuning well, but some parts especially affect stability. And those are locking picks and a fixed/ or locking tremolo bridge system. An electric guitar with these options will last long, no matter how aggressively you play your parts.
Best guitars for punk rock reviews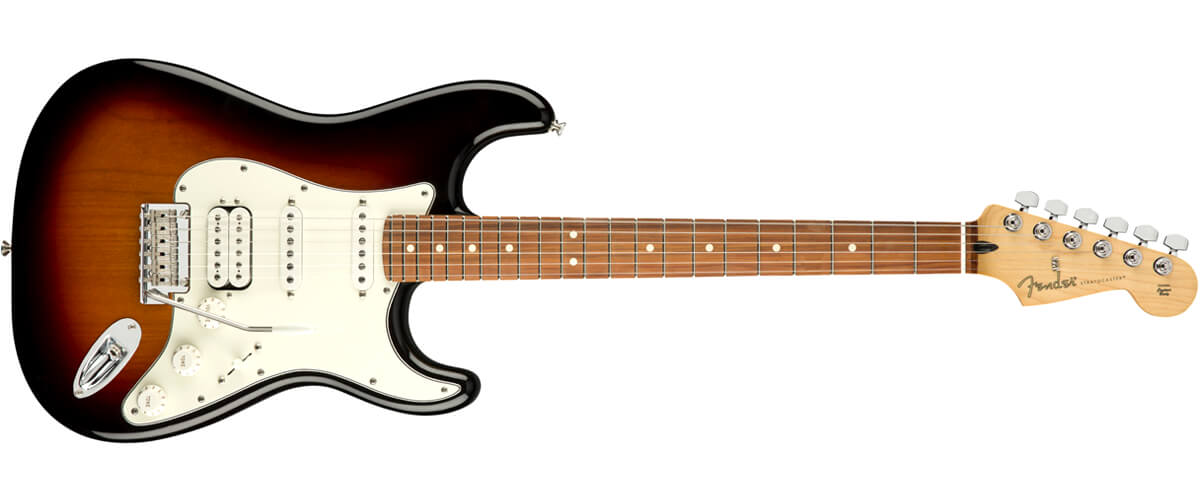 This model was released in 1954 and has been one of the most recognizable and popular guitars ever since, embodying classic tradition and modern electronics of good quality.
The Fender Player Strat HSS double-cutaway body is made of solid Alder, and its Contemporary 9.5-inch C-shaped neck is made of Satin-coated maple. This combination of materials and the special shape of the body makes it incredibly comfortable for so many musicians, providing quick playing and easy access to all 22 middle Jumbo frets.
The Stratocaster HSS is considered one of the most versatile guitars, thanks to the combination of a Player Series Alnico 2 Humbucking bridge and two Player Series Alnico 5 Strat Single-Coil on the midrange and neck. In addition, its 5-way switch lets you have a wide range of sonic tones to play any genre. To top it off, the guitar has an impeccably smooth two-point tremolo bridge with a bent saddle that provides incredible stability.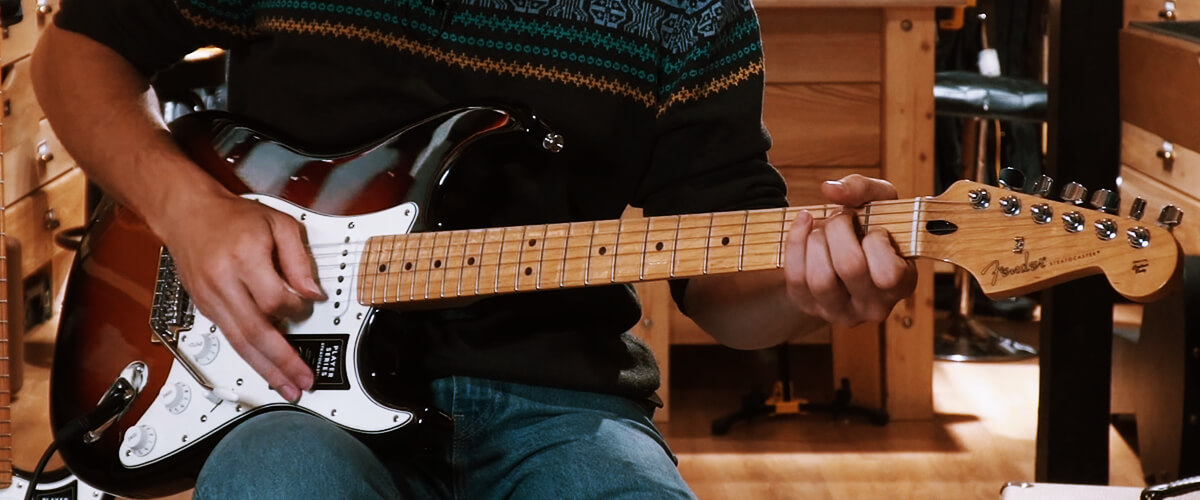 If you compare this model to the others on my list, it's the most expensive but also the most versatile, with clean tones and articulate overdrive/distortion dynamism.
The Fender Player Stratocaster HSS sounds crisp when every note is clearly audible, powerful, with expressive vibrato, and exactly the tone you need. It can be tuned into different configurations to perform any style. I get incredible pleasure from playing it smoothly and quickly and from its clear but not ringing sound. And by the way, it's comfortable and easy to hold.
So, the combination of the guitar's parameters suits our needs, and the price is surprisingly quite affordable (although we can't say that the guitar is cheap). The Fender Player Stratocaster is the best guitar for punk on my list!
Key specs
Scale, in/cm: 25.5/64.7.
Frets: 22.
Fretboard radius, in/cm: 9.5/24.1.
Type: electric.
Body material: alder.
Neck material: maple.
Neck joint: bolt-on.
Pros
Solid Alder body.
Satin-coated C-shaped neck provides a fast and smooth glide.
Excellent humbuckers with a 5-way switch offer a wide range of tonal possibilities.
An impeccably smooth two-point tremolo bridge with a bent saddle offers incredible stability.
Excellent sound with a wide tone range.
Cons
No, no, I have no complaints about the Fender Stratocaster.
Epiphone Les Paul Special-II E1 – budget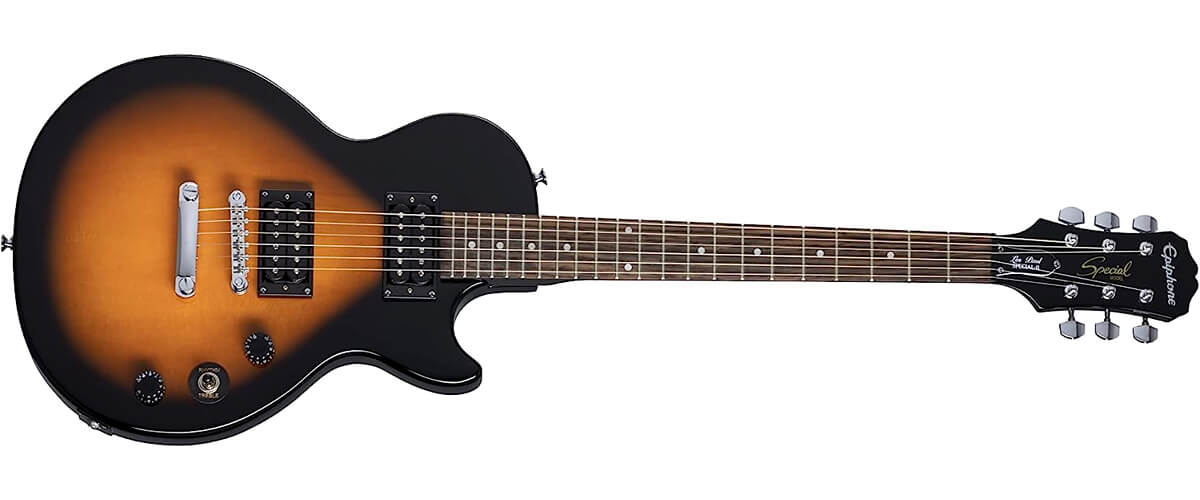 Epiphone, as a representative of Gibson budget models, offers us a nice guitar Epiphone Les Paul Special-II E1, which has the necessary characteristics for Punk Rock and, most importantly, will be affordable to most musicians.
The body in the famous Les Paul shape is made of Mahogany, as well as the SlimTaper C neck with a 12-inch radius of 22 medium frets. The only notches on the body provide good access to the upper register, and the guitar is very comfortable for long playing sessions. Moreover, this fingerboard suits musicians with small hands or thin fingers. Also, Epiphone Les Paul Special-II E1 has a very popular good bridge Epiphone LockTone Tune-O-Matic and humbucker system consisting of bridge Epiphone 700T and neck Epiphone 650R with a 3-position switch.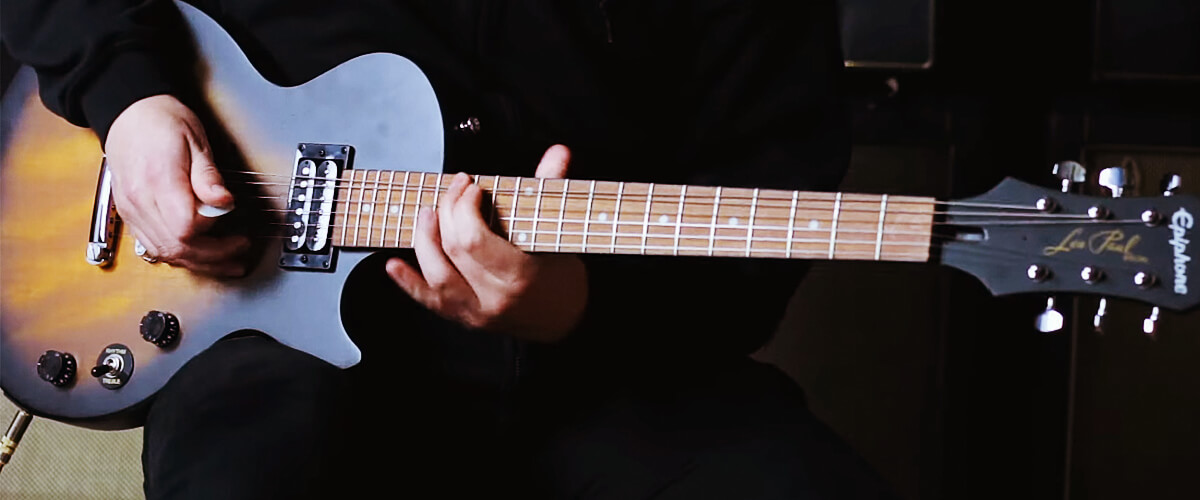 It's not hard to guess that the switching system loses out to the previous Fender Player Strat HSS in-range capability. And we should also consider that the manufacturer spared some details at such a low price (plastic regulators, for example, are not very reliable). In addition, the fret ends are not super-smooth. But on the whole, Les Paul Special-II E1 is a good guitar for its rank.
Its positive qualities are especially noticeable in its sound. As soon as I touched the strings, it was immediately clear that I had a Les Paul in my hands. The sound is thick and fat, and the humbuckers give off a warm, well-balanced, even sound. Just what you need for Rock!
With all the parameters described above, I wholeheartedly award this model the title of the best guitar for pop and post-punk for its quality "Punk sound", well-made most important components, convenience, and incredibly affordable price.
Key specs
Scale, in/cm: 24.7/62.6.
Frets: 22.
Fretboard radius, in/cm: 12/30.4.
Type: electric.
Body material: mahogany.
Neck material: laurel.
Neck joint: bolt-on.
Pros
Mahogany body.
The SlimTaper C-shaped neck is comfortable to play even with small hands.
Robust Epiphone LockTone Tune-O-Matic bridge.
Warm fat rock sound of Le Paul.
Cons
Lack of smooth fret ends.
Cheap hardware.
Schecter Omen-6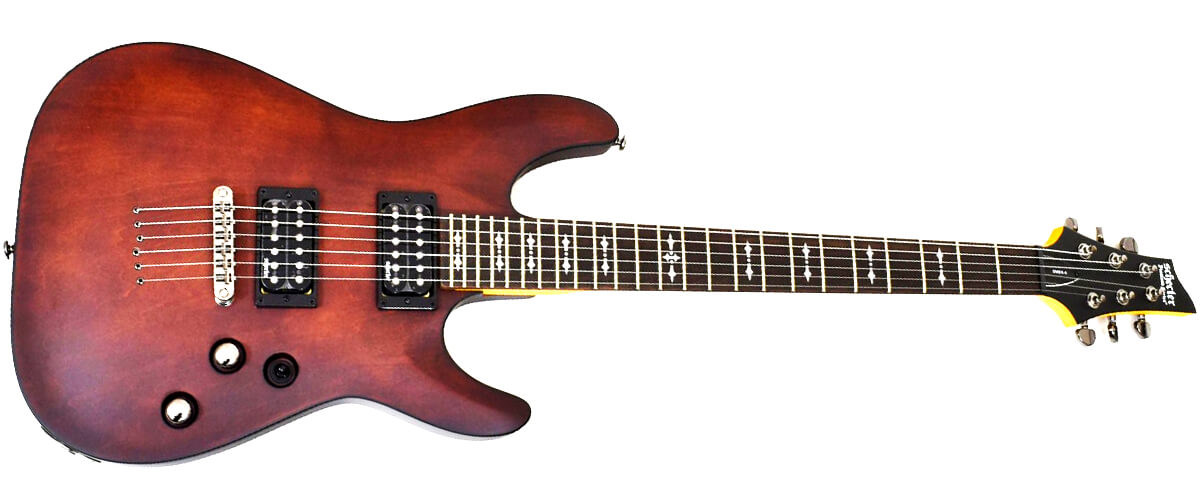 Another guitar on my list is a representative of a fairly young but already becoming popular company for producing electric guitars for different genres of music. And it's Schecter Omen Extreme-6, which to my taste, looks just amazing (by the way, there are some amazing color options in the range).
The body of the Arched Top guitar is made of Mahogany with a quilted Maple top, which guarantees excellent resonance qualities. And the two notches make it comfortable to play, giving free access to the upper register. Thanks to the slim C-shaped Maple neck with 24 Jumbo frets on a Polysand pad, you can play this guitar pretty aggressively and very fast. And another important point for Punk Rock is the String Thru Body system on the Tune-O-Matic bridge. Like Epiphone Les Paul Special-II E1, the Omen-6 has a 3-way switch for two good quality Schecter Diamond Plus humbuckers. So the guitar would be versatile, but not like the Fender Player Stratocaster HSS with the 5-way.
With this guitar, I could switch the humbucker on one coil, which gave me clean notes. It's a pretty versatile instrument, which I was convinced of after playing a few genres, and for Punk, it would be very good. With any combination of humbuckers, the sound is tight, notes are extracted clearly, and they give off enough distortion when needed. The only downside I've noticed is that it requires tuning out of the box ( but I'm not particularly picky about that because I always tune the instrument to myself).
I recommend Schecter Omen Extreme-6 for those who like Rock as much as I do because this style is the element of this model. The manufacturer did a great job and created a decent instrument at a very reasonable price. And most importantly – it has everything we were looking for.
Key specs
Scale, in/cm: 25.5/64.7.
Frets: 24.
Fretboard radius, in/cm: 14/35.5.
Type: electric.
Body material: basswood.
Neck material: maple.
Neck joint: bolt-on.
Pros
Mahogany body in Arc Top style.
Slim C-shaped fast neck.
The Tune-O-Matic bridge and String Thru Body system make the playing stable.
Very good (though not well-known) humbuckers for this price.
Cons
It may require tuning out of the box.
Squier Affinity Series Stratocaster HH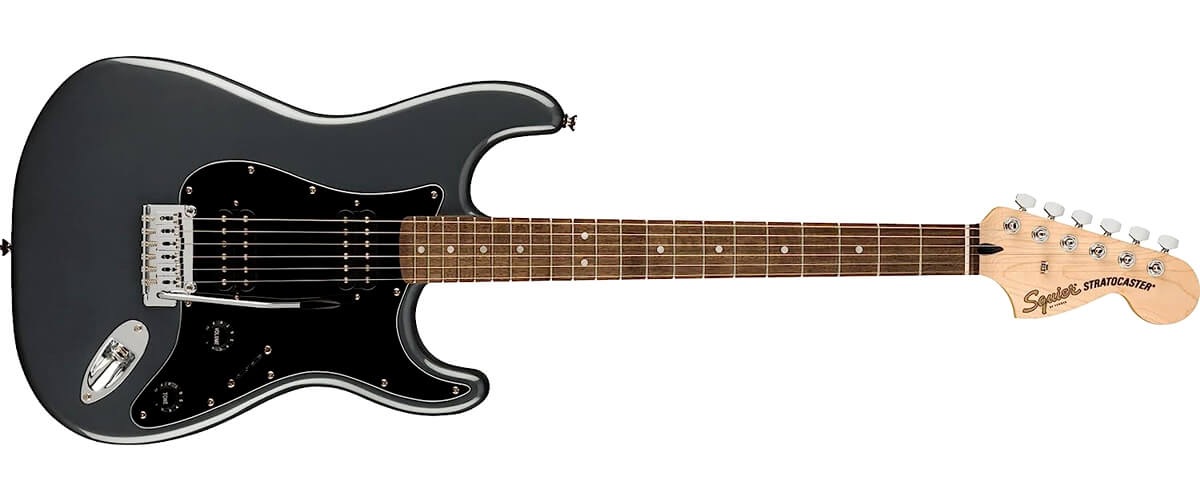 Welcome back to the Fender Stratocaster! This time at a much more affordable price in the Squier Affinity Series Stratocaster HH for those who can't afford a more expensive version (or don't want to). Being a member of the company's entry-level lineup, it can offer you decent instrument and sound quality, and its lightweight, slim body will suit even the youngest performers. And at the same time, you won't embarrass yourself on stage with it.
The materials of this model are a bit less than the previous models (especially the older Fender from my list), offering us a body made of Poplar with a glossy finish. Still, its colors are very nice and bright. And the neck is as good as Schecter Omen Extreme-6 and Epiphone Les Paul Special-II E1 because it is very thin, C-shaped, and made of Maple with Indian Laurus fretboard, so fast playing is its thing for this guitar (the fingerboard has 21 frets). This model also features humbuckers with a 3-position blade, but this time they are ceramic (which is considered a little worse), but in terms of sound quality, they are very good. But the guitar has a 2-Point Synchronized Tremolo with Block Saddles, which is handy for playing Punk.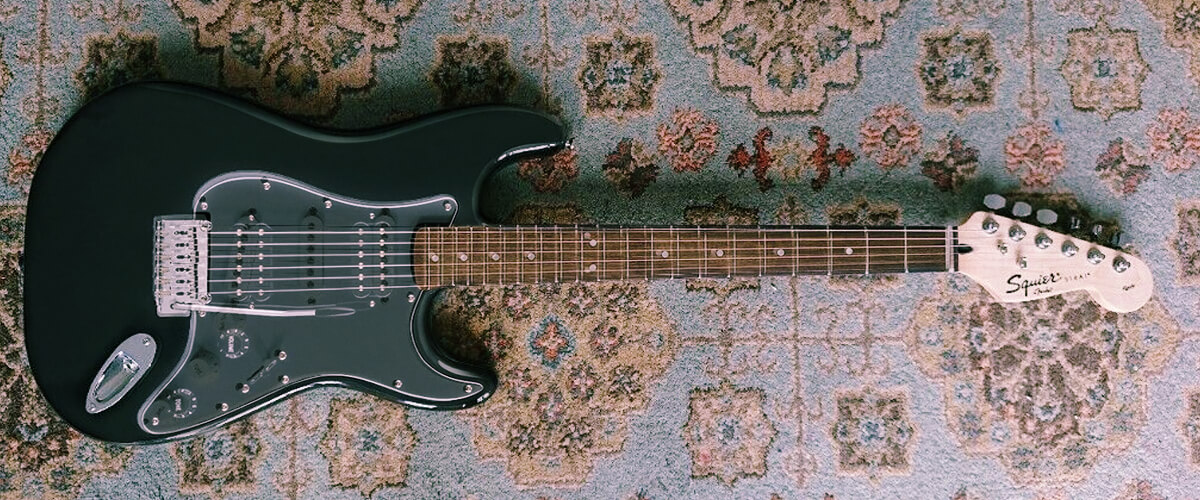 When playing, the Squier Affinity Series Stratocaster HH performed very well. Its tone and sound are consistent with the classic Fender Stratocaster, and that comes at a price. It's easy to play, and the neck is really thin and comfortable; although there are some bumps on the frets, but I fix these things myself. The sound is clear, crisp, and rich, and the Squier Affinity can be given a fair amount of overdrive if needed.
For its price rank, the guitar has some pretty common flaws. But you're always making some compromises by saving money when you buy it. All in all, it's a decent instrument in its category, and the Squier Affinity Series Stratocaster is great for Punk Rock.
Key specs
Scale, in/cm: 25.5/64.7.
Frets: 21.
Fretboard radius, in/cm: 9.5/24.1.
Type: electric.
Body material: poplar.
Neck material: maple.
Neck joint: bolt-on.
Pros
Consistent with the classic Fender Stratocaster sound.
Holds stability well.
Lightweight, suitable for many, including beginners.
Cons
Rough edges of the frets.
The ceramic humbuckers are not of the highest quality.
Ibanez GRX70QATBB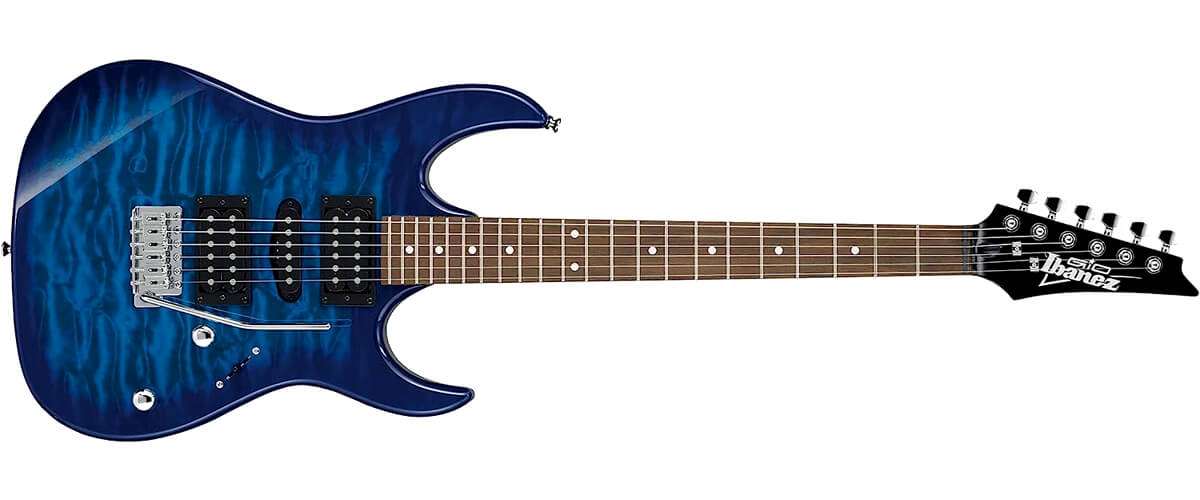 And finally, the Ibanez GRX70QATBB. Also an inexpensive model with a Poplar body like the Squier Affinity Series Stratocaster HH, but with a Maple top, where TBB in the name means Transparent Blue Burst – an incredibly bright, stunning color for your performances. I can tell you in advance that you can count on quality even with the most inexpensive model when it comes to Ibanez.
So, I've already told you about the body. The standard C-shaped guitar neck is made of Maple, with a Yatoba fretboard and 22 frets. It's very comfortable in hand and thanks to its satin finish you can play it very fast without any problems. Of course, like the Squier Affinity, it has flaws, and also exactly with the roughness of the frets, but as I said before – these are acceptable and expected for the price ranking things. The cartridges are ceramic (there are three in the XX configuration), which is not surprising for its low price, but with a 5-position switch for a very wide range of tone combinations. The Ibanez GRX70QA is the only guitar on the list with the same range as the Fender Player Strat HSS. The guitar also has a T106 tremolo bridge with six independent saddles.
The combination of pickups allows you to get great sound out of the guitar, both clean and with some distortion, so many styles are available with GRX70QA, including Punk Rock (it generally sounds especially good in Rock genres). I enjoyed playing it.
The Ibanez GRX70QA will suit many, from the beginner to the advanced player, as it combines brand quality with an incredibly wide range of sound, especially Rock. So I sincerely consider it one of the best punk guitars. Don't forget that a lot depends on other equipment as well. Use effects pedals, and it will wow you in performance. But most importantly, choose what you like.
Key specs
Scale, in/cm: 25.5/64.7.
Frets: 22.
Fretboard radius, in/cm: 12/30.5.
Type: electric.
Body material: poplar.
Neck material: maple.
Neck joint: fixed.
Pros
Very comfortable when playing.
When tested, it held stability well, but I can't claim that for the future.
Gyro range of tones thanks to the 5-position switch.
Cons
Ceramic pickups.
Roughness on the frets.
FAQ
Do I need a guitar with a tremolo system for punk rock?
No, you don't need a tremolo system for Punk Rock. Do you know why? Because it doesn't matter at all what kind of guitar you have in your hands. All that matters is whether you can play it and whether you and the people around you like the result. But objectively speaking, a tremolo might not stand the time. Punk Rock involves fast, aggressive playing, as has been said more than once. That's why a fixed bridge is better, or the same tremolo, but with locking, so your playing on that particular guitar lasts as long as possible.
Do I need to spend a lot of money on a guitar for punk rock?
It's up to you to decide if you need to spend much money on a Punk Rock guitar. After all, it's your budget as well as your investment. Sure, expensive guitars have better quality parts, but any guitar can last for decades with proper care. The main thing is whether you like its sound. Learn more about the differences between expensive and cheap guitars in
our article
.
What body material is best for punk rock guitar?
At the beginning of the review, we already figured out that one-piece bodies are best for Punk Rock guitars. The most common material for an electric guitar body is Mahogany. It is strong, durable, and has great tonal qualities suitable for the Punk style. The same Mahogany is most commonly used for the neck with Rosewood fingerboard, which sounds vintage. Maple, Basswood, Agathis, Alder, Poplar, Walnut, or Spruce can also be found in electric guitars, most suitable for heavy genres.
What type of finish is best for punk rock guitar?
The type of guitar finish does not affect the genre of music you play, but it can affect whether you are comfortable playing. Glossy finishes are easier to clean but quickly become sticky when used from your hands. There are also Acrylic and Polyurethane finishes, which reliably protect the guitar from minor damage and don't affect the sound. But if we're talking about the neck, the Satin finish is the most suitable for fast playing, which is implied for Punk Rock. This type is less prone to dirt during performances, and you won't have to struggle with wet hands while playing.
Can I use a guitar with a semi-hollow or hollow body for punk rock?
You can use a semi-hollow or hollow guitar for Punk Rock. You can even play it on an acoustic, a 7-string, or a classical guitar. Why not? Nothing should stop you as long as you have fingers on your hands and any guitar, and most importantly, the desire to play Punk Rock. You should only pay attention to the sound and, as a result, the melody. If you are happy with it, who can forbid you? But as I mentioned at the beginning of the review, a one-piece guitar gives a better result in the common sense of Punk: this guitar is more reliable, and its tonality is most suitable for the style. But it's up to you to decide!
We are supported by our audience. When you purchase through links on our site, we may earn an affiliate commission at no extra cost to you.
Our newsletter
* We will never send you spam or share your email with third parties