Well, it's time to write about the best guitars for women. But, first, let's figure out what exactly makes a guitar a woman's guitar. There is no guitar for men that a woman can't play, and many female rock performers prove that. But it is still accepted that women are more elegant than men, smaller in height, and have smaller hands. That's why several technical characteristics can affect the choice of a guitar for a woman or a girl.
Guitars for women comparison table
Name
Scale, in/cm
Frets
Fretboard radius, in/cm
Type
Body material
Neck material
Review
Martin LX1

best acoustic guitar for women

23/58.4
20
16/40.6
acoustic
spruce
Rust Birch laminate
Review
Gretsch G9500

top beginner guitar for females

24/61
18
12/30.5
acoustic
basswood
nato
Review
ESP LTD EC-256FM

electric guitar for women

24.75/62.8
22
13.77/35
electric
mahogany
mahogany
Review
What makes a guitar good for women?
If we take the features of female physiology mentioned above as a basis, it is important to highlight the following parameters when choosing a guitar suitable for women's hands:
Body size
There are full-size guitars and their "smaller sisters," which are instruments being ¾ or ⅞ the size of the body. And small-body guitars are most suitable for women and beginner girls.
Their neck is shorter, their body is thinner, and they're lighter in weight, which is why these guitars are often called Travel guitars. And if you see this name, it means the instrument is suitable for females. A smaller size doesn't mean a worse-quality guitar or worse sound. The leading companies in the world have acoustic or electric guitars of different sizes in their range, and today I'll tell you about some of them.
Scale length
When choosing a guitar for women, the distance from the bridge to the nut, called the scale length, is also very important. Accordingly, the shorter the scale is, the easier it is to play for a girl. The width and length of the neck feel very different when playing, so even a tiny difference in size can affect your interaction with the instrument.
This parameter determines how comfortable the guitar is and how you feel it in your hand. And that means how long and with what kind of mood you'll learn to play. It might seem that the scale's length depends on the guitar's size, but that's not always true! Big guitars sometimes have a short length, while small ones have a long length.
Frets
You should also pay attention to the frets because the identical scale length can have a different number. So if the scale length is short and there are a lot of frets on it, it will make playing more comfortable because it will be easier to jump over and clamp the right one. I have already noted that the size of a guitar doesn't always mean a smaller fingerboard. However, acoustic and electric ¾, ⅞, or Travel guitars, often have really smaller ones, making them convenient for people with small hands, actually for women.
Top acoustic guitars for women
Martin LX1 – best acoustic guitar for women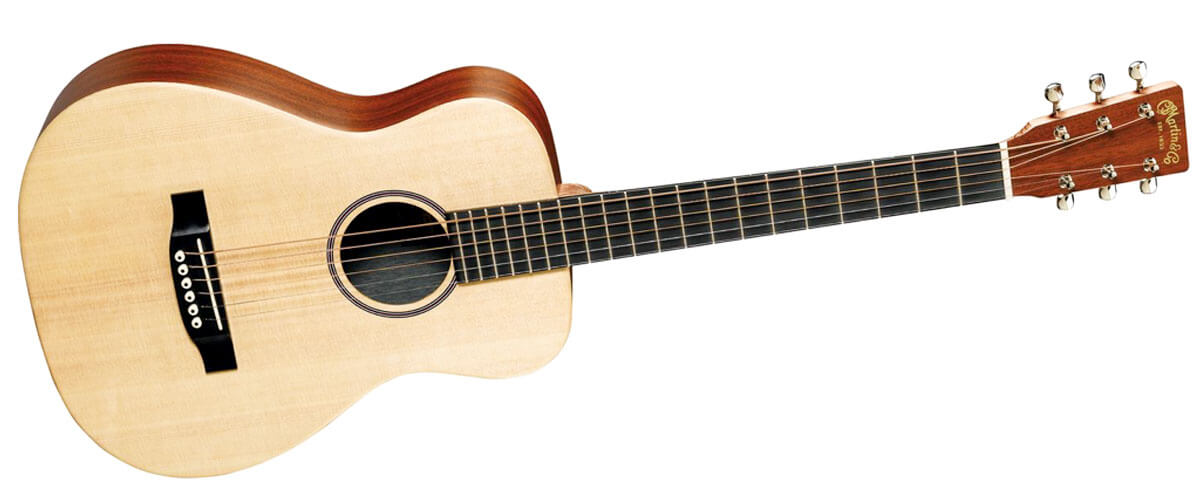 Let me introduce you to the Little Martin LX1 miniature guitar. Martin Company is in the top three in guitar manufacturing and is meticulous about all its instruments. I believe this is the best acoustic guitar for women as it is ¾ the size of a standard guitar, made of high-quality materials, and at a very acceptable price.
The Little Martin line has three cute-looking models that differ slightly in design. They are all small, Dreadnought-shaped, with no cutaway, which, of course, doesn't contribute to the surround sound, but still doesn't mean they can't be high-quality instruments in their price range. Original materials used in the Little Martin production ensured the guitar's durability and influenced the excellent sound quality.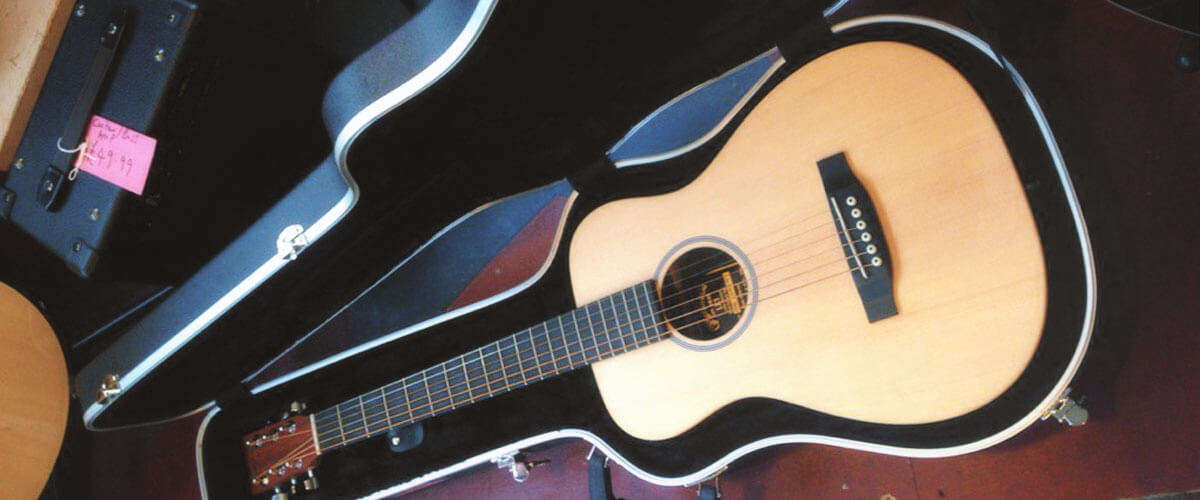 For example, the top of the Little Martin LX1 is made of hand-finished solid Sitka spruce, which makes it sound great, while the back and sides are made of mahogany with an HPL finish. Also, the sound quality is influenced by the Style X bracing system installed inside the body. This top brace provides structural stability and controls the vibrations of the top of the guitar. The fingerboard is attached to the body with a Mortise and Tenon joint system and is made of Stratabond material, similar to mahogany in its resonance properties. The fingerboard pad here is made of Richlite. It's an unusual material, and it's not a favorite among connoisseurs, but I'm sure it won't be a problem for beginners. Overall, the low oval fingerboard has 20 fairly narrow frets. It is comfortable in the hand, and will be suitable for women.
The sound of the Little Martin LX1 is balanced and has a smooth tone. The guitar will delight you and those around you with its gentle overtones. I enjoyed playing it – it's a great instrument. LX1 is lightweight and pleasant to the touch. I could feel its quality throughout, and you will definitely feel it too.
Key specs
Scale, in/cm: 23/58.4.
Frets: 20.
Fretboard radius, in/cm: 16/40.6.
Type: acoustic.
Body material: spruce.
Neck material: Rust Birch laminate.
Neck joint: mortise tenon.
Pros
The Style X bracing system provides a stable design.
The low oval fingerboard has 20 narrow frets.
Cons
Doesn't give surround sound.
Gretsch G9500 – top beginner guitar for females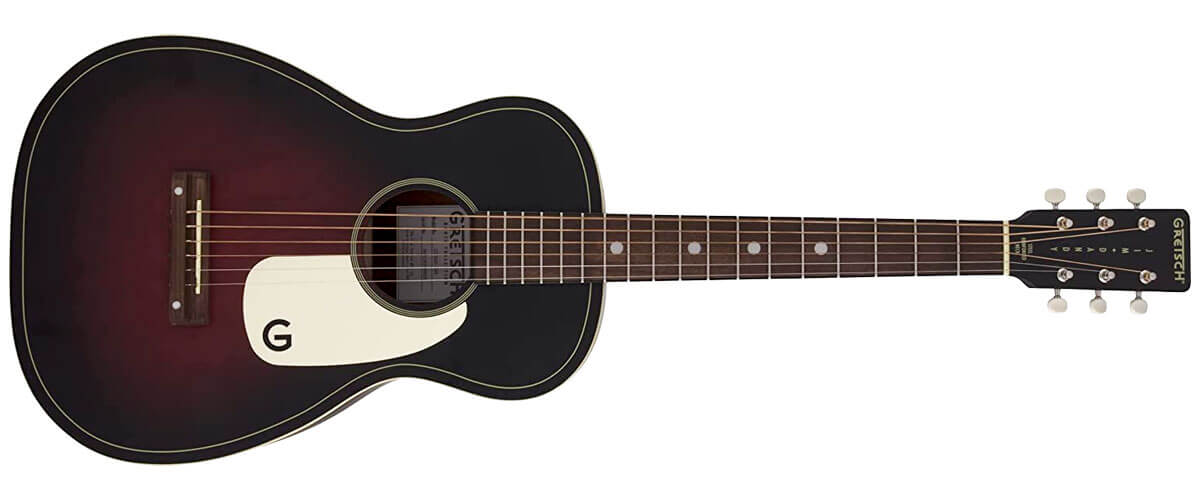 The next model on my list is the Gretsch G9500. This traditional acoustic guitar is part of the Roots collection, has the full name G9500 Jim Dandy Flat Top, referring back to the roots of American music, and is one of the earliest Gretsch instruments. The company has been in business since 1883, and its origins matter because it sounds like a Gretsch Rex guitar!
The Parlor (AKA ¾) Jim Dandy guitar has an incredible Vintage Sunburst color. The elongated body is made of basswood (body and sides), which is reminiscent of pine in its soft, warm tone. Thanks to this, as well as the X-bracing system, the guitar sounds very natural, powerful, surprisingly loud, and resonates perfectly. However, it has a boxy projection, which is not critical for its price category.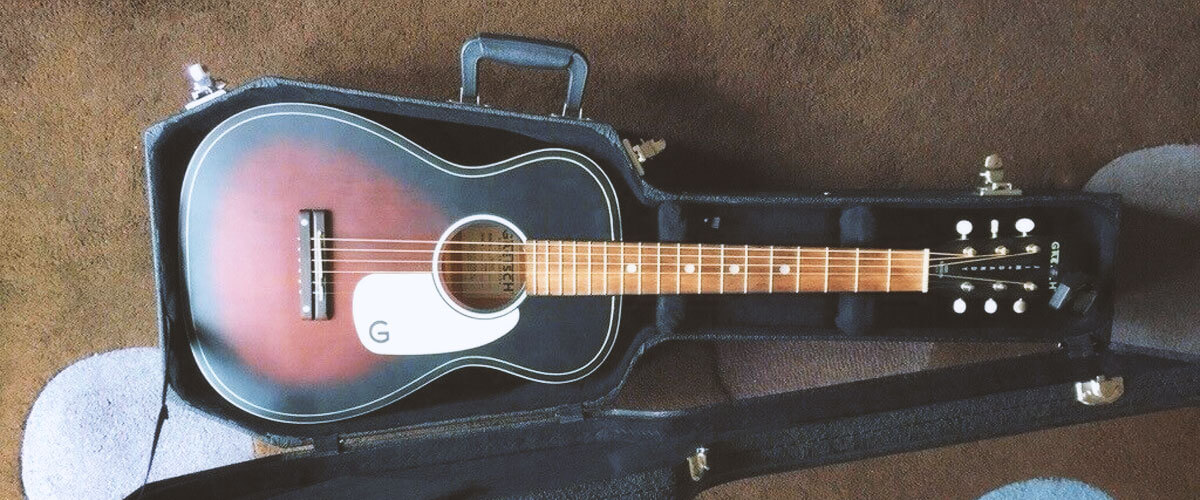 Just like the Little Martin LX1, this guitar has no cutaway. But unlike LX1, the neck is mounted to the body on the 12, not on the 14th fret, and has the C-shape. The fingerboard has a total of 18 frets and is 24 inches long. In addition, there is a walnut fretboard with vintage frets and mother-of-pearl inlays. All these make it incredibly comfortable for small hands.
I believe that the Gretsch G9500 is the best guitar for female beginner in its price range. If you're on the cusp of choosing your first guitar, I can't recommend anything else. Its look, history, mellow sound, and comfort will provide you with the most enjoyable experience on your way into the world of music.
Key specs
Scale, in/cm: 24/61.
Frets: 18.
Fretboard radius, in/cm: 12/30.5.
Type: acoustic.
Body material: basswood.
Neck material: nato.
Neck joint: fixed.
Pros
It sounds powerful and loud.
The X-bracing system provides good resonance.
The fingerboard is comfortable for small hands.
Cons
It has a boxy sound projection.
Taylor GS Mini Mahogany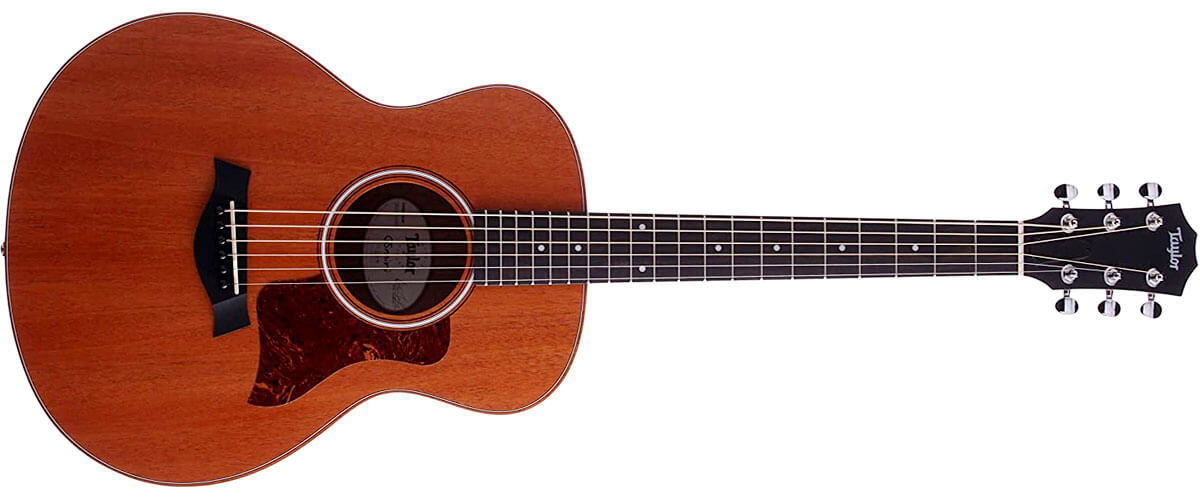 Taylor is so famous in the acoustic world that there's no point in telling you about them. Celebrities (Shawn Mendes, Taylor Swift, etc.) play these guitars, which means you can be sure in advance about the quality of the Taylor GS Mini Mahogany, regardless of its rather reasonable price. It will serve you a long time, and I would safely put it in the category of female, children's as well as travel guitars.
This model has a lacquered mahogany top and looks better in real life than in the picture. It's essentially a smaller Grand Orchestra with a 23.5″ scale length. The sides and back are made of layered Sapele plywood, and the body is reinforced with X-bracing for good resonance. The construction quality is awesome, fully living up to its brand.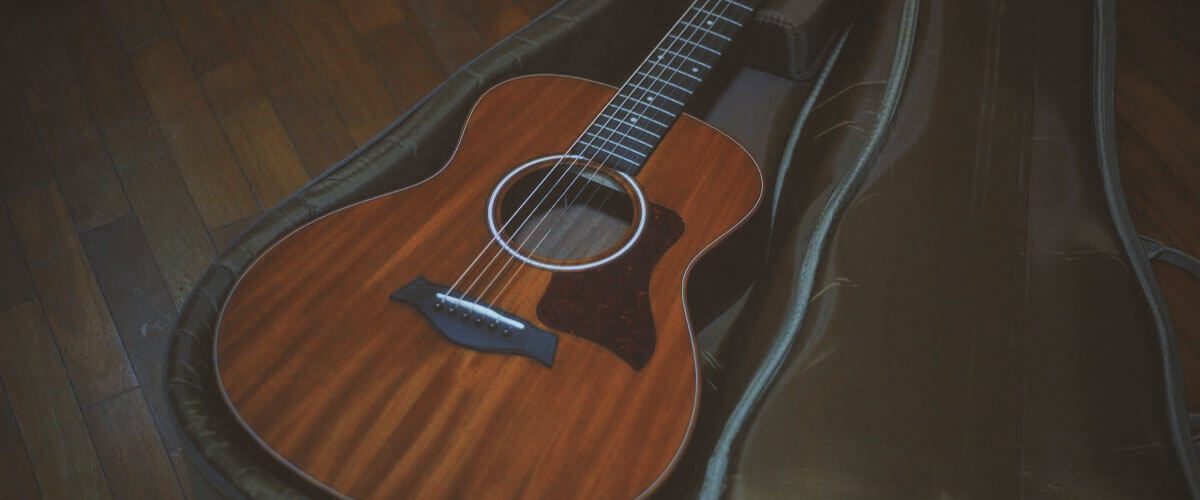 Like the previous Little Martin LX1 and Gretsch G9500 guitars, this one is ¾ in size and has no cutaway. And 20 frets, just like the Little Martin. The fingerboard is Taylor-style attached to the body and is made of Sapele with a West African Crelicam Ebony fingerboard. Despite its soft, pleasant tone, it seems a little quiet to me. But I won't get tired of saying that the approach to picking a guitar is very individual. You might find this to be a plus, but I like loud instruments.
The name Taylor says already that the guitar is worth buying, but consider it in detail, feel it in your hand. My choice is obvious, I think the Taylor GS Mini Mahogany is very comfortable, and it's a pleasure to play. Most importantly, it's perfect for women and beginners due to its shape, size, and construction quality.
Key specs
Scale, in/cm: 23/58.4.
Frets: 20.
Fretboard radius, in/cm: 14/35.5.
Type: acoustic.
Body material: Crelicam ebony wood.
Neck material: Crelicam ebony wood.
Neck joint: fixed.
Pros
The mahogany top gives a warm, rich sound.
Excellent construction quality.
Very comfortable to hold and play.
Top electric guitar for women
ESP LTD EC-256FM – best electric guitar for women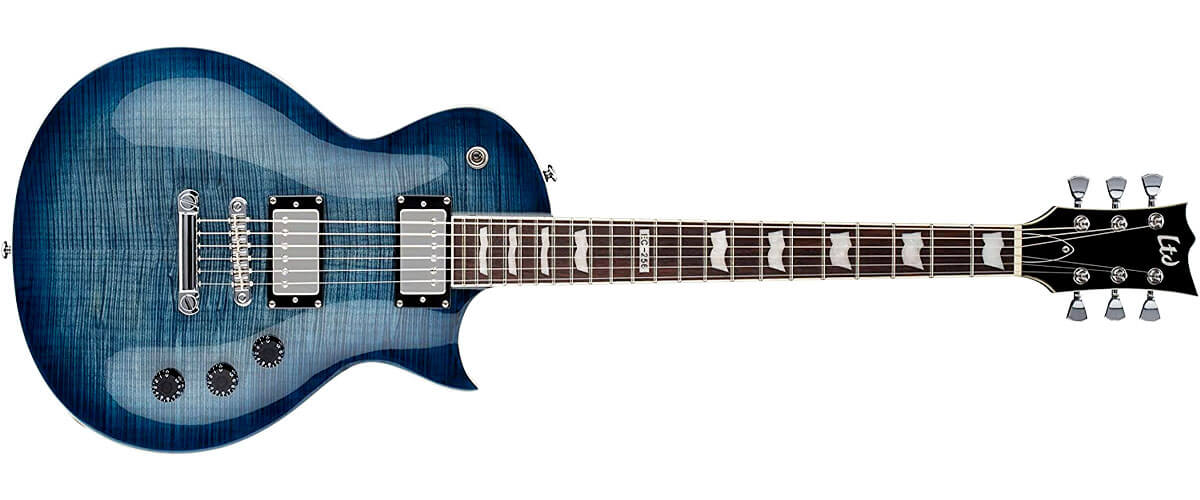 The best electronic guitar for women I would call the ESP LTD EC-256FM. It's also lovingly called Lemon Drop, because of the gold and amber color finish of the top. It looks cool, the build is qualitative, and it's in an affordable price niche. So let's take a closer look, shall we?
ESP mixed vintage style with metal style, resulting in a classic Les Paul single cutaway shape, with several models available in different colors. The body is made of solid mahogany in a beautiful glossy finish and has a sharp cutaway for easy access to the top frets. The 22-fret glued-in fingerboard is also made of mahogany with a rosewood fretboard. It is very thin, so the guitar will be comfortable for small women with sensitive fingers.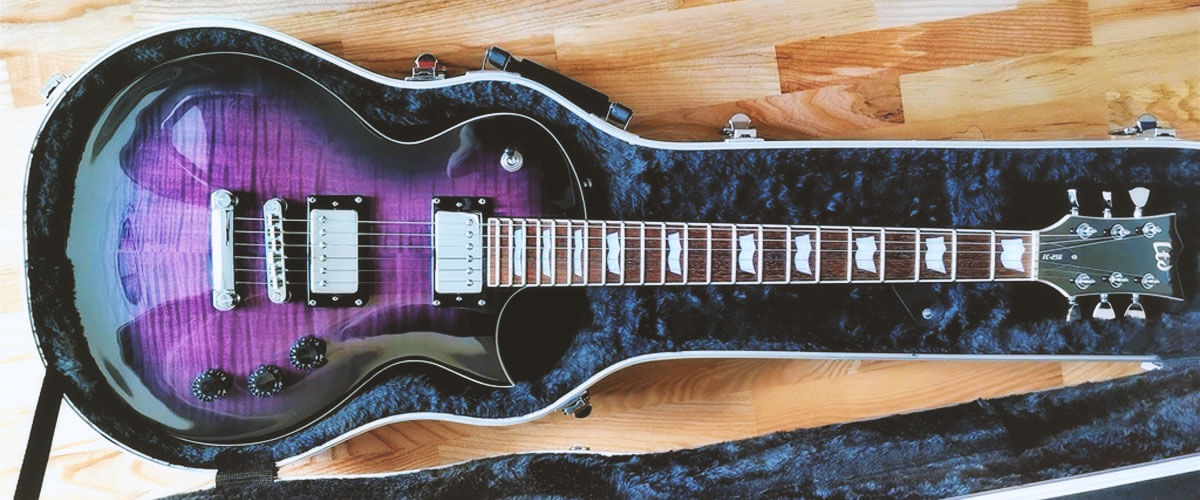 Two ESP Designed LH-150 passive humbuckers are mounted on the bridge and the guitar's fingerboard. I can't note anything remarkable about the LH-150, but I think they are quite suitable for beginner musicians. They are powerful enough, but with some slight sound flaws in the lower mids. However, they can be replaced or leveled out with the equalizer. The fixed Tune-o-Matic bridge, or simply TOM, is increasingly common in beginner guitars because it provides full tone stability.
Despite some shortcomings, which can be easily eliminated, you are dealing with a quality guitar, which is perfect for women. It's comfortable to play, beautiful, and its overall sound pleased me nicely. Blues or rock, ESP LTD EC-256FM handles any piece with dignity.
Key specs
Scale, in/cm: 24.75/62.8.
Frets: 22.
Fretboard radius, in/cm: 13.77/35.
Type: electric.
Body material: mahogany.
Neck material: mahogany.
Neck joint: fixed.
Pros
The thin neck is comfortable for sensitive fingers.
The sharp cutaway provides easy access to the top fret.
The Tune-o-Matic bridge provides stability.
Cons
The humbuckers could have been better.
Jackson JS32 Dinky DKA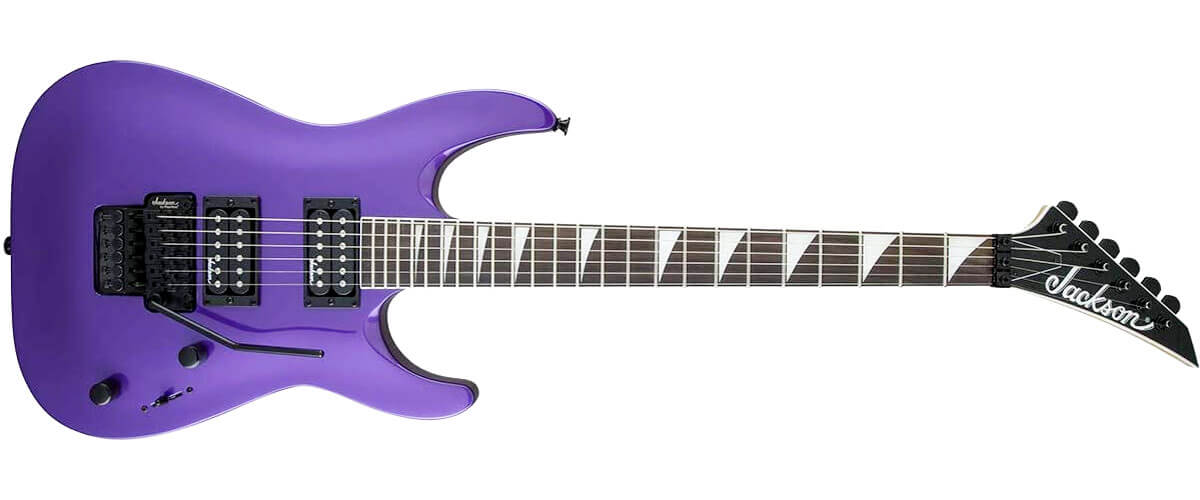 The Jackson JS32 Dinky DKA, where JS means junior size, is an electric guitar that seems to be specially designed for teenage girls. Bright body color, the miniature design developed and patented by the company, and the ability to play quickly and aggressively are sure to please the future rock star. The more so because Ozzy Osbourne's guitarist Randy Rhodes played on the Jackson guitar. And its price will please parents for sure.
The body of the guitar is made of Poplar or Nato with an Arch Top, and its line has several color options. The thin Maple fingerboard with Amaranth fingerboard and Shark Eye inlays is bolted to the body with graphite screws, making it resistant to the aggressive playing that the JS32 Dinky is capable of, and it has 24 frets.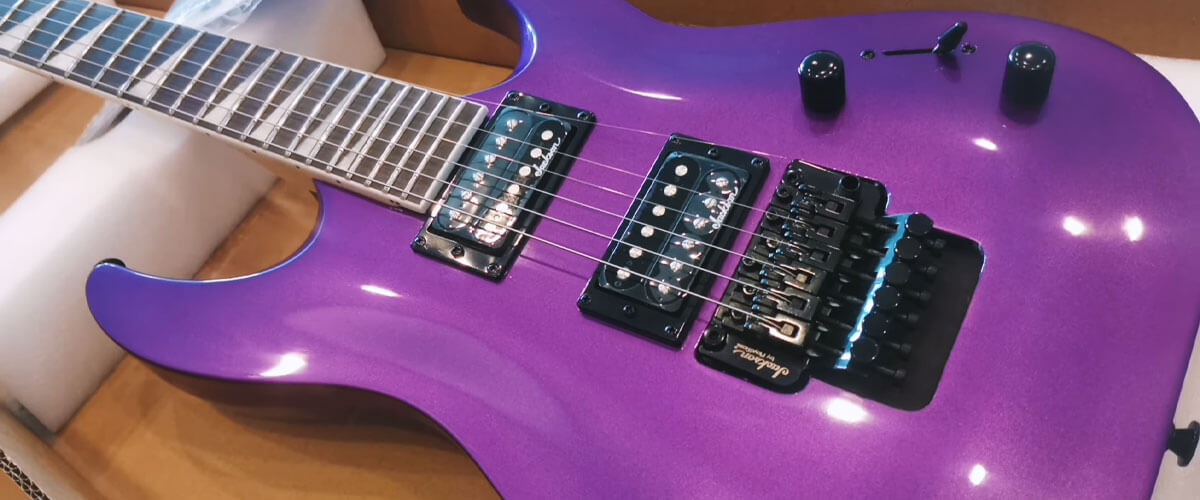 As for the electronics, the guitar has its own, which is a Jackson production. Like the ESP LTD EC-256FM, the JS32 has two humbucker pickups. Thanks to the ceramic magnets, they produce dense surround tone and clean powerful sound. The Floyd Rose tremolo bridge is also licensed, and double-locked, and it is incredibly stable. But you will probably have to fiddle with setting it up.
Perhaps this model won't suit everyone. It's too bright, too small, too loud… But, I think these are exactly the qualities that will appeal to girls! And the JS32 Dinky is truly worthy of consideration. Its high build quality and rigid construction will last you or your daughter a long time. So, soundproof your garage!
Key specs
Scale, in/cm: 25.5/64.7.
Frets: 24.
Fretboard radius, in/cm: 12-16/30.4-40.6.
Type: electric.
Body material: poplar.
Neck material: maple.
Neck joint: bolt-on.
Pros
High part stability for aggressive playing.
The Floyd Rose tremolo bridge is incredibly stable.
Cons
The tremolo-bridge setup is a little complicated.
Ibanez Gio GRGA120QA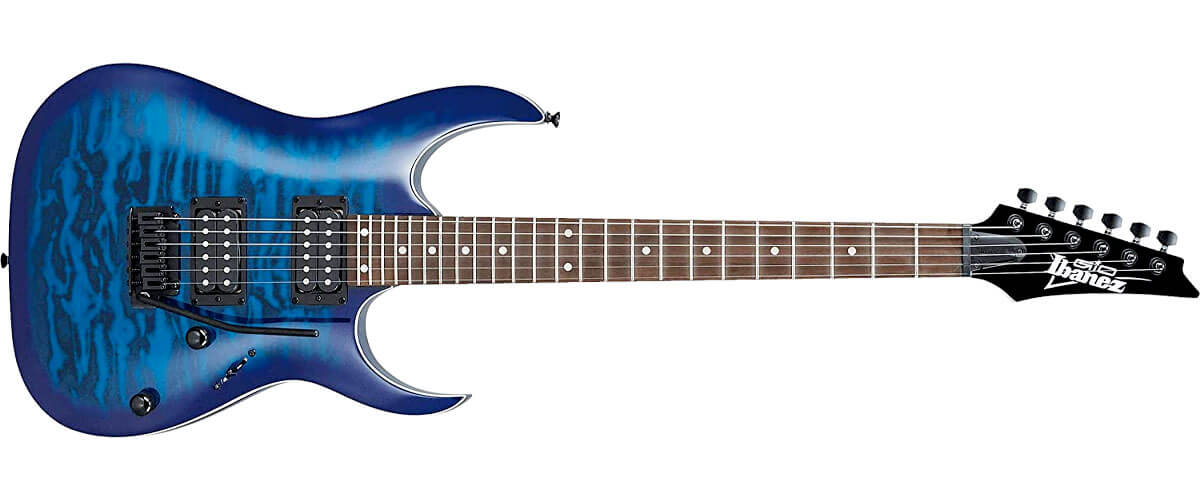 And last but far from the least on my list is the Ibanez Gio GRGA120QA. This inexpensive electronic guitar will certainly suit females not only in size and attractive appearance but also in quality. After all, Ibanez is a famous company that creates instruments for players of all levels, and this model is already quite popular.
The Art Gain top quilted Maple body finish is very attractive. It is available in Transparent Black Sunburst and Transparent Blue Burst colors, and looks a bit like the Jackson JS32 Dinky. In addition, the Poplar body gives an excellently balanced resonance. The fretboard fingerboard in Purpleheart with 24 Jumbo frets is also made of Maple and provides fast, smooth, but powerful playing.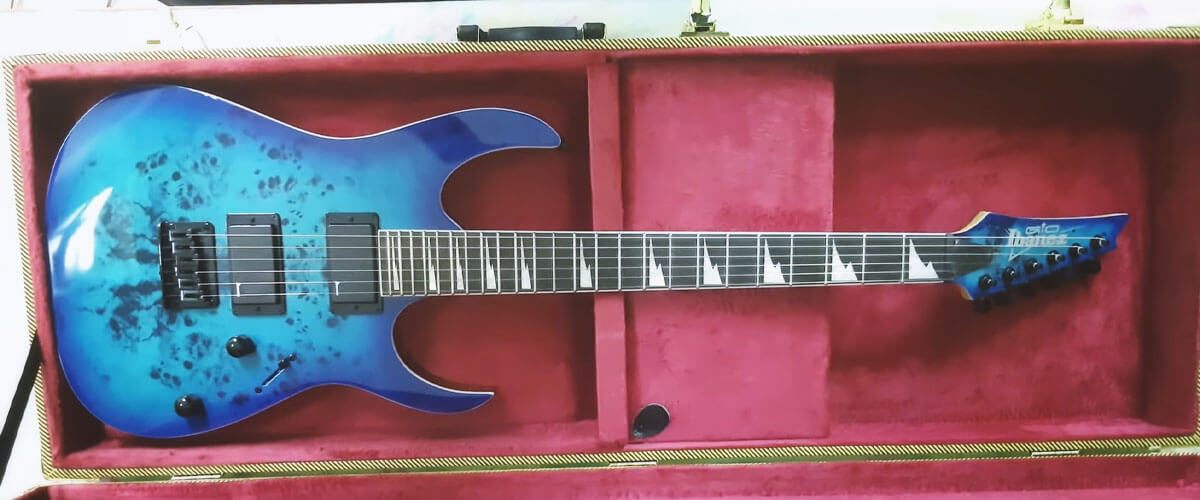 The Ibanez Gio GRGA120QA features two passive pickups, this time Infinity R, which are capable of producing a great range of tones, from warm to fiercely growling. The T102 tremolo bridge, in its turn, is ready to fulfill your every wish, be it dive-bombing, dips, subtle vibrato effects, or metal.
Although I caught a slight buzzing of the frets, the sound of the Ibanez Gio is still very decent. And I'm sure the instrument will handle all the tasks you put it through, pleasing you with construction and sound quality for a long time. The small electric guitar, Ibanez Gio GRGA120QA, was designed for women, and when you take it in your hands, you will be sure of it.
Key specs
Scale, in/cm: 25.5/64.7.
Frets: 24.
Fretboard radius, in/cm: 15.7/40.
Type: electric.
Body material: poplar.
Neck material: maple.
Neck joint: bolt-on.
Pros
The poplar body gives an excellently balanced resonance.
The fingerboard provides fast, smooth, but powerful playing.
The T102 tremolo bridge is very good.
Cons
The slight buzzing of the frets.
FAQ
Are smaller guitars easier to learn on?
These guitars
have special features, but the process of learning to play them is exactly the same as the guitars of standard size.
Does hand size affect guitar playing?
The size of your hands
will not significantly impact your ability to play the guitar. However, if you have smaller hands, you may find certain chords and techniques more challenging to play than those with larger hands.
Do you need long nails to play guitar?
No, you don't need long nails to play the guitar well.
We are supported by our audience. When you purchase through links on our site, we may earn an affiliate commission at no extra cost to you.
Our newsletter
* We will never send you spam or share your email with third parties